This PhD student is filling a gap in research on intimate partner violence, brain injury and mental health
October 2/2023
Danielle Toccalino is one of two DLSPH PhD students who have received the Ontario Women's Health Scholars Award for her research on intimate partner violence-related brain injury and the mental health of survivors. Her research is greatly needed – the body of literature that explores the impacts of brain injury and mental health among survivors of intimate partner violence is scarce. 
---
If you are in immediate danger or need urgent medical support, call 9-1-1.

 
---
Interview by Bonnie O'Sullivan 
This is part two in our Q&A series celebrating the two DLSPH Women's Health Scholars Award recipients. Read part one where we talk to Kelly Gregory whose research focuses on diagnostic delays among women-identifying patients.
How would you describe your research focus?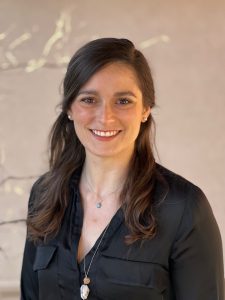 Intimate partner violence impacts one in three women globally. And give or take, 50 per cent of those women will experience brain injuries as a result. That statistic ends up being somewhere around one in six women will live with an intimate partner violence-related brain injury in their life, which is more prevalent than breast cancer. And yet we know next to nothing about it. The research that I'm doing explores this occurrence and how mental health is interwoven with that experience. What does that mean for health care needs, health care access, and what our health systems need to be doing to better support these women? 
What is your thesis? 
My broader thesis focuses on two things. I am exploring what are the healthcare-related needs and experiences of survivors of intimate partner violence-related brain injury with mental health concerns, and what are the barriers for service providers to provide care to those survivors. I'm looking at both of those questions from the perspectives of both survivors and service providers, so that we can get a whole picture. The bulk of my research has been qualitative. 
 Who is your faculty advisor? 
I'm co-supervised by Drs. Angela Colantonio and Christine Wickens. Both are cross appointed at Dalla Lana. I worked side-by-side with Lin Haag, who is a doctoral candidate at Wilfrid Laurier University, and also a former Ontario Women's Health Scholars Award winner. 
What has been one surprising thing you've learned during your research? 
There's a huge body of intimate partner violence literature. There's a huge body of brain injury literature. And there's a huge body of mental health literature. As soon as you start pairing two of these together, the body of literature shrinks. And if you put all three of these together, almost nobody is researching it – there were less than 30 articles written about the topic when I did my review. 
How do you hope your research will make a difference?  
I want more people to be aware of intimate partner violence-related brain injury and to think about that as something that might be playing a role in someone's life. Greater awareness is something that I'm really hoping for. 
I've been working with Prof. Angela Colantonio and Lynn Hogg to build modules for this ABI (Abused and Brain Injured) toolkit. People can come from different backgrounds – from an intimate partner violence perspective, from a brain injury perspective, and survivors themselves – and they can find something in here to support them. 
Was there a course or study that has inspired you? 
In my first year as an incoming student at IHPME, I took an overview of Canada's health system. It's a course we all take. We talked through the systems that comprise our health system and all the structures in place. It's a complicated structure. 
I also had a great qualitative research methods class that helped me engage in qualitative research because I had no training in it before I started my PhD.  
And then the gender and health class, which was a great reminder of the fact that there's so many gendered implications to the way our health systems are set up – what we study and what we don't study. 
 These three courses in combination really helped reiterate how important this kind of research is and to make sure that women's voices are being heard in our health system because they haven't been historically. Learning about that structure while talking with colleagues about the challenges faced by survivors really inspired me to look at that connection more – because no one was looking at it from a system level when I started.  
How has earning the Women's Health Scholars Award encouraged you? 
There are financial implications of course, which I'm incredibly grateful for. I can do research that I wouldn't be able to do otherwise and in timelines that I would otherwise be very stressed about. 
But there's something so validating about putting your heart and soul into this research that you've dedicated five years of your life to and then to be recognized in this way. The granting agencies receive so many fantastic applications and having been through the process a handful of times and not being selected, it's really validating to have someone say, "I know that this work is valuable and we're going to recognize that."  
A side effect of getting this award is that there will be a little more conversation around intimate partner violence-related brain injury out there.