Location

Virtual

Series/Type

Dates

May 4, 2022 from 1:30pm to 4:00pm
The Dalla Lana School of Public Health's Data Science Interdisciplinary Research Cluster brings together an interdisciplinary team to focus on the DLSPH priority area: "Using data sciences, artificial intelligence and emerging technologies in informatics and analytics to improve population health and health systems performance".
Help us celebrate the six teams of interdisciplinary researchers who won seed funding from DLSPH to investigate new and emerging projects in data science and artificial intelligence.
FUNDED PROPOSALS – 2021-22 DATA SCIENCE SEED GRANTS
1. Using decision tree machine learning to identify worker movement typologies.
Presenter: Aviroop Biswas, Cynthia Chen
2. A multicentre database of patients hospitalized with diabetes in Ontario across 30 hospitals
Presenter: Michael Colacci
3. The evolution of potentially inappropriate prescribing in persons with dementia
Presenter: Abby Emdin, Susan E. Bronskill
4. Building Fair Machine Learning Models: Using Big Data to Explore Inequities in Risk Assessment at the Centre for Addiction and Mental Health
Presenter: Dr Laura Sikstrom, Dr Marta Maslej
5. ExplAIn 2 Kids: Engaging Children & Youth in Ar@ficial Intelligence in Pediatric Healthcare
Presenter: Melissa McCradden, Kelly Thai
6. A Predictive Model for the Presence of Occult Cancer in Family Practice Patients
Presenter: Steven Narod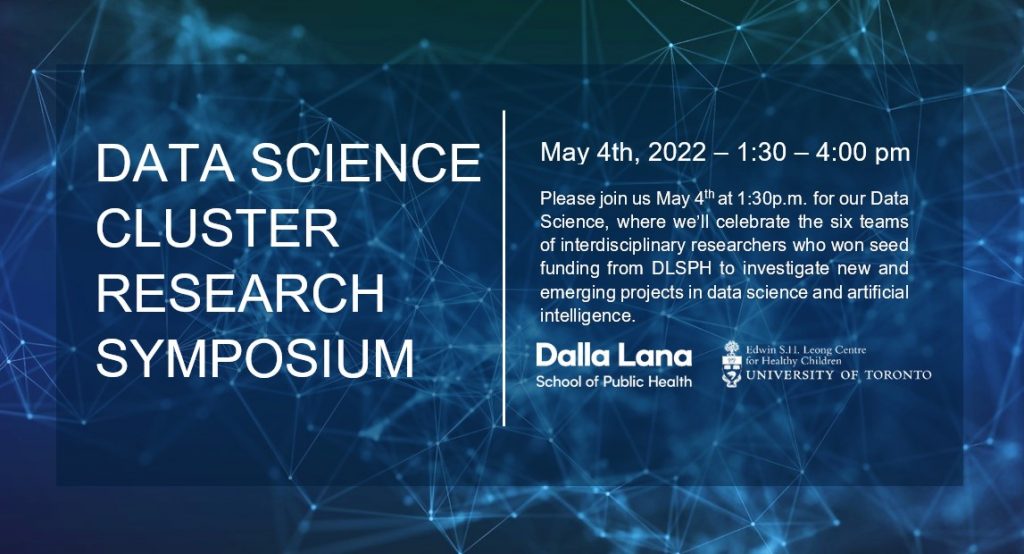 Links