Location

Zoom - Online

Series/Type

Dates

November 30, 2022 from 3:00pm to 4:00pm
Speakers: Dr. Mikaela Gabriel and Sarah Ponton
Moderator: Dr. Suzanne Stewart
Elder: Clayton Shirt
Talk Title:
The Ku-gaa-gii pimitizi-win Study: COVID-19 and Indigenous Vaccination Hesitancy, Experiences from the Streets
Talk Abstract:
The Ku-gaa-gii pimitizi-win study shares health data from the voices of urban Indigenous Peoples experiencing housing loss and homelessness during the COVID-19 pandemic in a community-based hospital study. Exploring vaccination hesitancy, health, movement, and service barriers, the data set will highlight the core messages of collected health data, while illustrating and identifying core strengths, barriers, and emergent needs for Indigenous homeless individuals. Recommendations for healthcare practices and interventions will highlight the importance of Indigenous cultural safety, data management and interpretation, and barriers and challenges to accessing housing, healthcare, and services.
Speaker Bio:
Sarah J. Ponton has a Master of Science in Community Health, with a focus in Addictions and Mental Health, from Dalla Lana School of Public Health at the University of Toronto. She is currently a research assistant and coordinator at Waakebiness Institute for Indigenous Health. Her research interests lie in improving the mental health for Indigenous peoples in Canada through evaluating Indigenous mental health programs. With her research team and community partners, she has helped in conducting a program evaluation of an Indigenous healing program by administering surveys, conducting interviews with clients and staff, analyzing survey and interview data, and writing a report compiling the findings for the organization and community. She has training in data science, program evaluations, research methods and design, and has five years' experience conducting research.
Mikaela (Mi'kmaq-Italian) has a PhD in Clinical and Counselling Psychology from the Ontario Institute in Studies in Education at the University of Toronto. She is presently a post-doctoral fellow at the Waakebiness-Bryce Institute for Indigenous Health. Her research explores how traditional knowledge and Elder connections can support Indigenous Peoples' mental health across life transitions. Together with her research team, community partners, and mentors, this research has explored life transition needs in collaboration with community partners in culturally safe methods in urban settings. She has clinical training and experience across inpatient, outpatient, and community mental health treatment settings, with focus in Indigenous cultural approaches to mental health; trauma-centered approaches; and narrative therapeutic strategies. She is a writer when able, a traveler when possible, and an auntie always.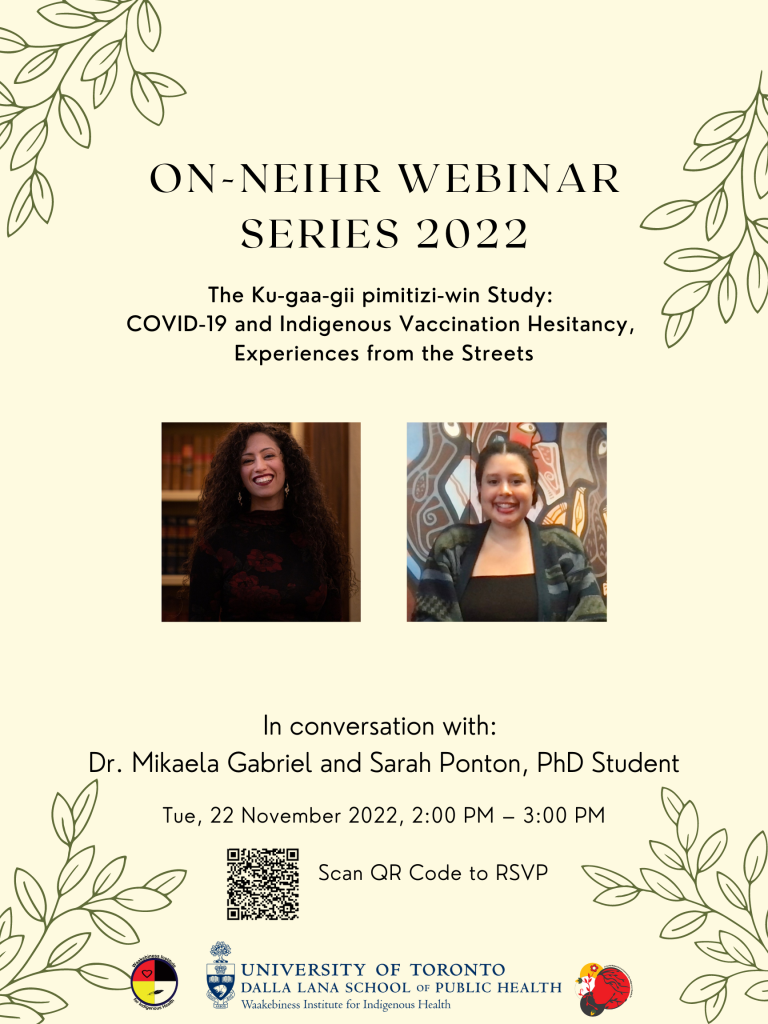 Links