Location

Online

Series/Type

Format

Online

Dates

March 16, 2023 from 1:00pm to 2:00pm
Links
ONTARIO NEIHR WEBINAR SERIES 2022/2023
The Congress of Aboriginal Peoples (CAP)
Title: Exploring the Elements and Advocacy within Research for Off-reserve Status/Non-Status First Nations, Metis, and Southern Inuit communities.
Speakers: Lydia C. Rehman, Darienne Russell, Nazih Nasrallah
Elder: Clayton Shirt
Moderator: Dr. Suzanne Stewart
March 16, 2023
1:00pm to 2:00pm EST
Abstract: The Congress of Aboriginal Peoples (CAP) is the national voice of off-reserve status and non-status First Nations, Métis, and Southern Inuit Indigenous Peoples. It is one of five National Indigenous (representative) Organizations and represents the interests of its provincial and territorial affiliate organizations (PTOs). CAP works collectively with affiliated provincial territorial organizations (PTOs) to promote and advance the collective and individual rights, needs and well-being of our member. Well-respected and deeply connected to their local communities, CAP PTOs deliver assistance throughout the country in areas such as housing, education, employment, mental health, and Indigenous languages. The first half of the presentation will share a broad overview of our partnerships and the various research activities happening at CAP which includes housing, and health research. The second half of the presentation will be followed by a sharing of preliminary findings from a scoping review that explores the systemic barriers within policies that impact the physical, mental, spiritual, and emotional health/ well-being of urban Indigenous peoples facing precarious housing and homelessness.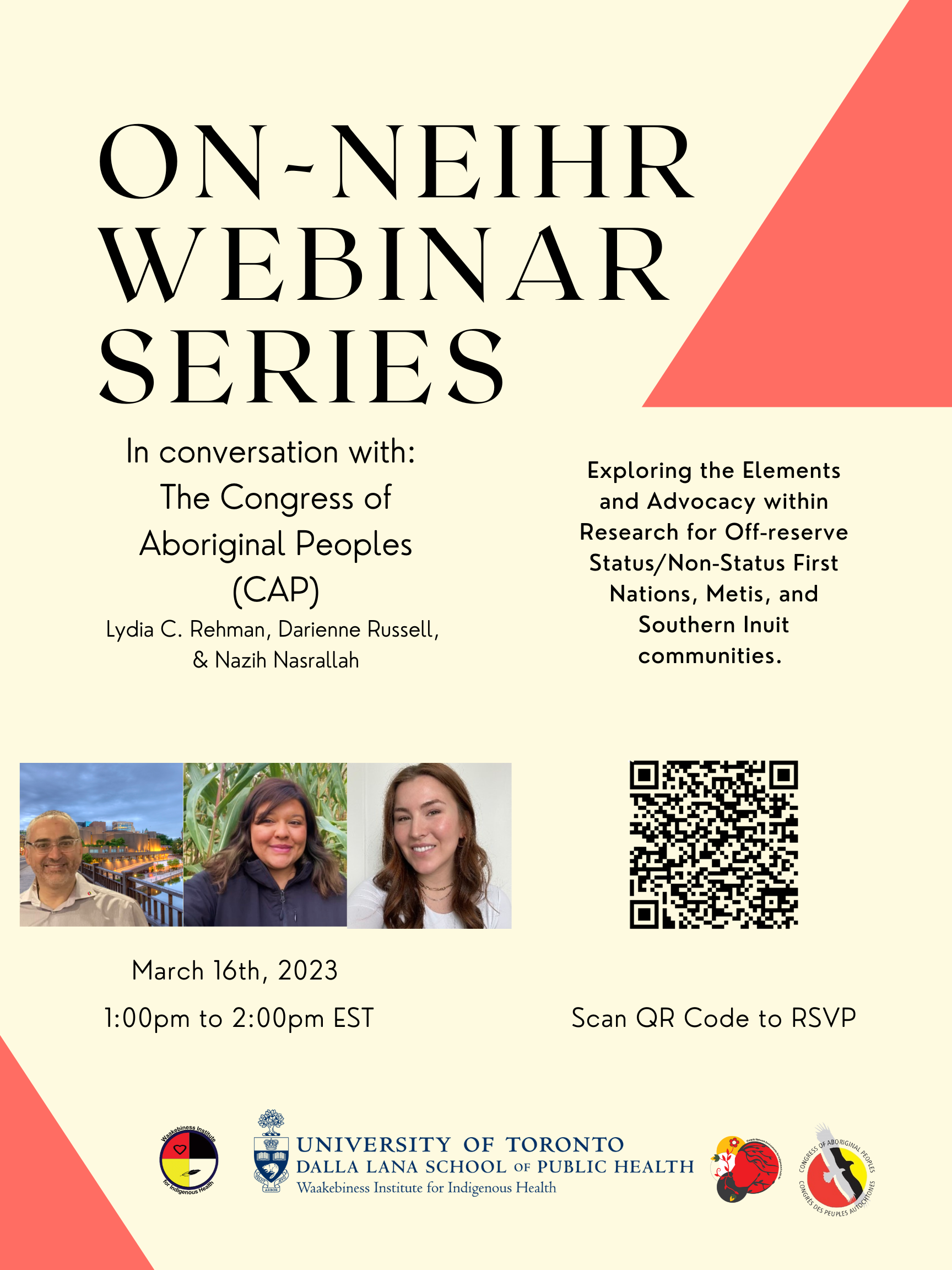 Meet the Speakers:
Lydia C. Rehman
Lydia (She/Her) is a second generation, mixed-race, neurodivergent woman and is grateful to work on Dish with One Spoon Treaty territory. Lydia has unique capacities she is a Research Analyst at the Congress of Aboriginal Peoples, where she supports the production of research on the topics of Urban and Rural Indigenous housing, health, and child-welfare. Lydia is an allied scholar and is Master of Public Health Candidate in Indigenous Health situated at the University of Toronto, and a research assistant at the Waakebiness Institute for Indigenous Health. Lydia has a passion for Indigenous research ethics, methodologies and conducting ethical research based on meaningful engagement that utilizes strengths-based approaches and situates diverse Indigenous community perspectives at the forefront. Lydia has a deep passion for utilizing the strengths of her unique combination of intersecting identities, ethnic backgrounds, lived experience, Indigenous health education, and experience in advocacy/research to contribute and support Indigenous self-determination in research and healthcare.
Darienne Russell
Darienne (she/her) is a graduate student at the University of Toronto and a Research Assistant at the Ontario Network Environment of Indigenous Health Research (ON-NEIHR). Darienne is from British Columbia and is a member of Tl'azt'en Nation. She is grateful to live, work and play on the traditional and unceded territories of many nations including the Mississaugas of the Credit, the Anishnabeg, the Chippewa, the Haudenosaunee and the Wendat peoples. Her research interests include gender violence, urban Indigenous homelessness, and data sovereignty.
Nazih Nasrallah
Nazih is an applied sociologist (Alumni of Ottawa, and Carleton Universities), and a senior policy research professional offering distinguished long-standing career, leveraging extensive subject matter expertise in socio-economic policy research, methodology, and statistics with special interest in diversity and Indigenous studies. Nazih is currently the Director of Research at the Congress of Aboriginal Peoples (CAP) which is located on the unceded territories of the Algonquin Anishinaabe Peoples and their descendants, and I respectfully acknowledge all other unceded traditional territories of its provincial and territorial constituents throughout Turtle Island.