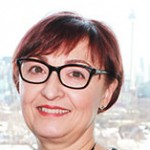 Faculty Member
Branka Agic MD, MHSc, PhD
Email Address(es)

Office Address

Centre for Addiction and Mental Health (CAMH) 33 Russell Russell St. Toronto, ON M5S 2S1

Division(s)/Institute(s)

Position

Assistant Professor

SGS Status

Associate Member

Appointment Status

Status Only
Research Interests
Mental health and substance use among immigrants, refugees and ethnic groups
Social determinants of mental health and substance use
Health equity and access to services
Knowledge translation
---
Education & Training History
PhD in Health and Behavioral Sciences, University of Toronto
MHSc in Health Promotion and Collaborative Program in Addiction Studies, University of Toronto
MD, University of Sarajevo, Bosnia & Herzegovina
---
Other Affiliations
Independent Scientist, Education at CAMH
---
Current Research & KT Projects
Co-Principal Investigator. Tele-BARICARE to Manage COVID-19-Related Distress (TELE-BARICARE)
Co-Investigator. Optimization of Prefrontal Theta-Burst Stimulation to Treat Depression: A Bench to First-in-Human Study
Co-Investigator. RÉAC! Responsive services for newcomers in the context of the COVID–19 pandemic: a participatory research in Montreal, Sherbrooke, and Toronto
Co-Principal Investigator. The Effects of the COVID-19 Pandemic on Physician Delivery of Virtual and In-person Mental Health Care Services across Reformed Primary Care Payment Models in Ontario
Co-Investigator. Understanding attitudes and beliefs toward the COVID-19 vaccines among youth with mental illness
Co-Investigator. Triangulating Evidence to Evaluate the Impact of Cannabis Policy in Ontario
Co-Principal Investigator. Digital Human-Based Brief Interventions for Harmful Alcohol Use: The PAHOLA project
Selected Publications
Agic, B., Fruitman, H., Maharaj, A., Taylor, J., Ashraf, A., Henderson, J., Ronda, N., McKenzie, K., Soklaridis, S., Sockalingam, S. (in press). Advancing curriculum development and design in health professions education: a health equity and inclusion framework for education programs. The Journal of Continuing Education in the Health Professions.
Agic, B. Immigrant and refugee health. (in press). In Srivastava, R. (Ed). The Healthcare Professional's Guide to Clinical Cultural Competence. Toronto: Elsevier Canada.
Vingilis, E., Seeley, J.S., Di Ciano, P., Wickens, C., Mann, R.E., Stoduto, G., Elton-Marshall, T., Agoc., B., et al. al. (2021). Systematic review of the effects of cannabis retail outlets on traffic collisions fatalities and other traffic-related outcomes. Journal of Transport & Health. 22: 101-123.
Quilty. L., Agic, B. Coombs, M., Kristy, B-L., Shakespeare, J., et al. (2021). Benefits of digital health resources for substance use concerns in women: scoping review. JMIR Mental Health ;8(6):e25952 doi: 10.2196/25952 PMID: 34096879
Strudwick, G., Sockalingam, S., Kassam, I., Sequeira, L., Bonato, S., Youssef, A., Mehta, R., Green, N., Agic, B., Soklaridis, S., Impey, D., Wiljer, D., Crawford, A. (2021). Digital interventions to support population mental mealth in Canada during the COVID-19 pandemic: Rapid Review JMIR Mental Health 2021;8(3):e26550 doi: 10.2196/26550 PMID: 33650985 PMCID: 7927953
Le, TL., Tuck, A., Agic, B., Ialomiteanu, A.R., McDonald, A.J., Mann, R.E., Wickens, C.M. (2021). Ethnicity, immigration status, and driving under the influence of alcohol. J Ethn Subst Abuse. doi: 10.1080/15332640.2021.1885550. PMID: 33656975.
Anderson V, Gough WA, Agic B. (2021). Nature-Based Equity: An Assessment of the Public Health Impacts of Green Infrastructure in Ontario Canada. Int J Environ Res Public Health.18(11):5763. doi: 10.3390/ijerph18115763. PMID: 34072025; PMCID: PMC8197829.
Hynie, M., Tuck, A., Oda A., Agic, B., & McKenzie, K. (2020). Health care and the Canadian Syrian Resettlement Initiative: Understanding Syrian newcomers' needs and health care access in context. In A. Korntheuer, D. B. Maehler, P. Pritchard, & L. Wilkinson (Eds.), Refugees in Canada and Germany: Responses in policy and practice (pp 171-188). (GESIS-Schriftenreihe, 25). Köln: GESIS – Leibniz-Institut für Sozialwissenschaften. https://doi.org/10.21241/ssoar.66728
Hayes, K., Poland, B., Cole, D.C., Agic, B. (2020). Psychosocial adaptation to climate change in High River, Alberta: implications for policy and practice. Can J Public Health. 2020 Dec;111(6):880-889. doi: 10.17269/s41997-020-00380-9. PMID: 32720216; PMCID: PMC7728975.
Tuck, A., Oda, A., Hynie, M., Bennett-Abuayyash, C., Roche, B., Agic, B., & McKenzie, K. (2020). Health needs and service use of newly arrived Syrian refugees. In L. K. Hamilton, L. Veronis, M.Walton-Roberts (Eds.) A national project: Canada's Syrian refugee resettlement experience. (pp. 85-103). Montreal, Canada: McGill-Queen's University Press. doi:10.2307/j.ctv176ktst.10
Agic B. (2019). Promising Practices in Equity in Mental Healthcare: Health Equity Impact Assessment. Healthc Pap.18(2):42-47. doi: 10.12927/hcpap.2019.25921. PMID: 31596702.
Tuck, A., Oda, A., Hynie, M., Bennett-AbuAyyash, C., Roche, B., Agic, B. & McKenzie, K. (2019) Unmet Health Care Needs for Syrian Refugees in Canada: A Follow-up Study. Journal of Immigrant and Minority Health, 15(5)1-7, DOI 10.1007/s10903-019-00856-y
Tuck, A., Agic, B. & McKenzie, K. (2018) Refugees in host countries: psychosocial aspects and mental health. In Kienzler, H., Spence, C. M. & Wenzel, T. The health of refugees – An interdisciplinary perspective. Springer.
Oda A, Hynie M, Tuck A, Agic B,4, Roche B, McKenzie K. (2018). Differences in self-reported health and unmet health needs between government assisted and privately sponsored Syrian refugees: A cross-sectional survey. Journal of Immigrant and Minority Health. 2018 Jun 29. doi: 10.1007/s10903-018-0780-z
Pottie, K., Agic, B., Archibald, D., Ratnayake, A., Tapia, M., Thanos, J. (2018) HEIA tools: inclusion of migrants in health policy in Canada. Health Promotion International, day016,
https://doi.org/10.1093/heapro/day016
Tuck, A., Hamilton, H., Agic, B., Ialomiteanu, A.R., Mann, R. E. (2017). Past year cannabis use and problematic cannabis use among adults by ethnicity in Ontario. Drag and Alcohol Dependence, http://dx.doi.org/10.1016/j.drugalcdep.2017.06.022
Awards
2020  Fred Fallis Award in Online Learning, Continuing Professional Development (CPD) University of Toronto
2019  Ivan Silver Innovation Award, Continuing Professional Development (CPD) University of Toronto
2014 Fallis Award in Online Learning, Continuing Professional Development (CPD) University of Toronto