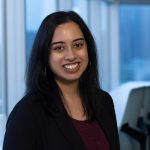 Faculty Member
Ananya Tina Banerjee PhD
Email Address(es)

Division(s)/Institute(s)

Position

Assistant Professor

SGS Status

Associate Member

Appointment Status

Status Only
Research Interests
Dr. Ananya Tina Banerjee is a status appointed Assistant Professor in the Dalla Lana School of Public Health. Her primary appointment as Assistant Professor and Equity, Diversity, Inclusion and Anti-Racism (EDI-AR) Lead is in the School of Population & Global Health, McGill University. Her interdisciplinary research embeds a strong emphasis on community-based participatory pedagogy and research, which is grounded in collaboration and partnership with racialized communities. Often, the research questions she pursues are community-defined problems in the context of health equity and intersectionality funded by the Canadian Institute of Health Research, Social Science & Humanities Research Council and Public Health Agency of Canada.  She is well known for her anti-racism and anti-oppression practice in the learning environment and providing critical mentorship for racialized students in public health programs. She won the 2022 McGill FMHS Teaching Innovation Award recognizing her unique pedagogy for inclusive public health education and serves on The Lancet's International Advisory Board for Racial Inequalities.
---
EDUCATION & TRAINING HISTORY
2016-2018 Chronic Disease & Pharmacotherapy Program, Institute of Clinical Evaluative Sciences (ICES) – Fellow
2012-2014  Women's College Research Institute – CIHR Funded Postdoctoral Fellow
2007–2012  McMaster University – Doctor of Philosophy (PhD), Health Research Methodology
2005–2007  University of Toronto – Masters of Science (MSc), Exercise Sciences
2000-2004  York University – Honors Bachelors of Science (BSc), Kinesiology & Health Science and Psychology
---
PRIMARY TEACHING RESPONSIBILITIES
Available to sit on doctoral committees.
---
CURRENT LED RESEARCH PROJECTS AS PRINCIPLE INVESTAGOR
Examining Vaccine Hesitency in Racialized Communities Living in Parc-Extension, Quebec.

Funded by Canadian Institute of Health Research

Understanding the Impact of Migration on Developing Diabetes among immigrants from Sri Lanka.

Funded by Social Sciences & Humanities Research Council

Developing, Implementing and Evaluating South Asian Anti-Oppression Training in Canada.

Funded by Public Health Agency of Canada
---
REPRESENTATIVE PUBLICATIONS
Banerjee, A.T., Lau, A., Bender, J. (2022). Poor health disparities among racialized students in a Canadian university. Journal of American College Health. DOI:1080/07448481.2022.2047702
Banerjee, A.T., Mahajan, A., Mathur-Balendra, A., Qureshi N., Teekah, M., Yogaratnam, S., Prabhakar, P., Ahmed, S., Shah, B., Velummailum, R., Price, P., de Souza, R., Bajaj, H. Impact of the South Asian Adolescent Diabetes Awareness Program (SAADAP) on Diabetes Knowledge, Risk Perception and Health Behaviours. (2021). Health Education Journal. DOI: 00178969211051054.
Atkins S, Banerjee A.T, Bachynski K, et al. (2021). Using the COVID-19 pandemic to reimagine global health teaching in high-income countries. BMJ Global Health 6:e005649. DOI:10.1136/ bmjgh-2021-005649.
Djulus, G., Shiekhan, Y., Nawaz, E., Burley, J., Thomas-Jacques, T., Naik, H., Warsame, K., Jamil, M., Banerjee, A.T. (2021). Advancing Social Justice Allyship in Health Promotion Students: A Mixed Methods Pilot Pedagogy in Health Promotion, 7(4) 304-312I.
---