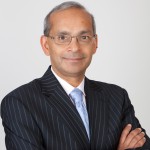 Faculty Member
Vivek Goel CM, MD,CM, MSc, SM, FRCPC
Research Interests
Evaluation of medical screening interventions
Community health status assessment and surveillance
Decision and economic analysis applications in public health policy
Development and evaluation of consumer decision aids
Vivek Goel  is a Professor Emeritus in the Institute of Health Policy, Management and Evaluation at the Dalla Lana School of Public Health, University of Toronto. He is presently serving as the seventh President and Vice-Chancellor of the University of Waterloo.
Professor Goel is a distinguished scholar with an extensive background in teaching, research and university administration. He obtained his medical degree from McGill University and completed post-graduate medical training in Community Medicine at the University of Toronto. Dr. Goel obtained an MSc in Community Health from U of T and an MS in Biostatistics from Harvard University School of Public Health. His research has focused on health services evaluation and the promotion of the use of research evidence in health decision-making.
Professor Goel joined the University of Toronto in 1991 as Assistant Professor in the Department of Preventive Medicine and Biostatistics. He was chair of the Department of Health Administration in the Faculty of Medicine from 1999 until 2001, then served as Vice-Provost, Faculty and subsequently was the University's Vice President and Provost from 2004 until 2008. He was a founding scientist at the Institute for Clinical Evaluative Sciences (ICES), where he continues as an Adjunct Senior Scientist. He served as founding President and CEO of Public Health Ontario from 2008 until 2014, where he was highly successful in building an academic public health services agency that provided scientific and technical advice to front-line practitioners. He then served as Chief Academic Strategist with Coursera, a global platform that connects universities and learners with online courses.  He returned to the University as Vice-President, Research and Innovation, and Strategic Initiatives and served in that role from 2015-2020.
He has extensive experience in governance and has served on many non-profit boards.  During the COVID-19 pandemic he was a member of the COVID-19 Immunity Task Force, Chair of the Expert Advisory Group on the development of a Pan-Canadian Health Data Strategy, and Scientific Advisor for CanCOVID, the national research platform for COVID-19 research.
He is a Fellow of the Canadian Academy of Health Sciences and a Member of the Order of Canada.
Other Affiliations
Senior Scientist Emeritus, Institute for Clinical Evaluative Sciences;
Professor, School of Pharmacy and School of Public Health Sciences, University of Waterloo
Representative Publications
Regehr C, Goel V. Managing COVID-19 in a Large Urban Research-Intensive University, Journal of Loss and Trauma. 2020; DOI: 10.1080/15325024.2020.1771846
Yang J, Roy S, GoelWho engages in explicit knowledge creation after graduation? Evidence from the alumni impact survey of a large Canadian public university.Studies in Higher Education.  2020;  DOI: 10.1080/03075079.2020.1732907
Rosella LC, Fu L, Buajitti E, Goel V. Death and Chronic Disease Risk Associated With Poor Life Satisfaction: A Population-Based Cohort Study. American Journal of Epidemiology. 2019;188:323-331.
Goel V, Rosella LC, Fu L, Alberga A. The Relationship Between Life Satisfaction and Healthcare Utilization: A Longitudinal Study.  American Journal of Preventive Medicine. 2018 55:142-150.
Dummer TJB, Awadalla P, Boileau C, Craig C, Fortier I, Goel V, Hicks JMT,Jacquemont S, Knoppers BM, Le N, McDonald T, McLaughlin J, Mes-Masson AM, NuytAM, Palmer LJ, Parker L, Purdue M, Robson PJ, Spinelli JJ, Thompson D, Vena J,Zawati M; with the CPTP Regional Cohort Consortium. The Canadian Partnership for Tomorrow Project: a pan-Canadian platform for research on chronic disease prevention. Canadian Medical Association Journal. 2018;190:E710-E717.
Pooransingh S, Misir A, Ramdath DD, Ramsewak S, Indalsingh R, Jaglal SB, Cameron C, Goel V. An assessment of barriers and facilitators to establishing national public health observatories in the Caribbean. Pan American Journal of Public Health. 2015; 38:403-409.
Rosella, LC, Bowman P, Pach B, Morgan S, Fitzpatrick T, Goel V. The development and validation of a meta-tool for quality appraisal of public health evidence: Meta Quality Appraisal Tool (MetaQAT).  Public Health.  2016; 136: 57-65.
Fitzpatrick T, Rosella LC, Calzavara A, Petch J, Pinto AD, Manson H, Goel V, Wodchis WP. Looking Beyond Income and Education: Socioeconomic Status Gradients Among Future High-Cost Users of Health Care. American Journal of Preventive Medicine. 2015; 49:161-71.
Rosella LC, Fitzpatrick T, Wodchis WP, Calzavara A, Manson H, Goel V. High-cost health care users in Ontario, Canada: demographic, socio-economic, and health status characteristics. BMC Health Services Research. 2014; 14: 532.
Stone C, Rosella L, Goel V. Population health perspective on high users of health care: role of family physicians.  Canadian Family Physician. 2014; 60:781-783, 790-792.