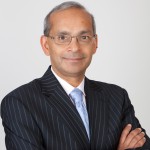 Faculty Member
Vivek Goel MD,CM, MSc, SM, FRCPC
Email Address(es)

Office Phone

416-978-4984

Office Address

Simcoe Hall, University of Toronto 27 King's College Circle, Room 109 Toronto, ON M5S 1A1

Website(s)

Division(s)/Office

Position

Professor

Appointment Status

Tenured
Research Interests
Evaluation of medical screening interventions
Community health status assessment and surveillance
Decision and economic analysis applications in public health policy
Development and evaluation of consumer decision aids
Education & Training History
Professor Vivek Goel was appointed Vice President, Research and Innovation of the University of Toronto in December, 2014. Professor Goel is a distinguished scholar with an extensive background in teaching, research and university administration. He obtained his medical degree from McGill University and completed post-graduate medical training in Community Medicine at the University of Toronto. Dr. Goel obtained an M.Sc. in Community Health from U of T and an M.Sc. in Biostatistics from Harvard University's School of Public Health. His research has focussed on health services evaluation. He was a founding scientist at the Institute for Clinical Evaluative Sciences (ICES), where he continues as an Adjunct Senior Scientist.
Professor Goel joined the University of Toronto in 1991 as Assistant Professor in the Department of Preventive Medicine and Biostatistics. He was chair of the Department of Health Administration in the Faculty of Medicine from 1999 until 2001, then served as Vice-Provost, Faculty and subsequently was the University's Vice President and Provost from 2004 until 2008. He was founding President and CEO of Public Health Ontario from 2008 until 2014, where he was highly successful in building an academic public health services agency that provided scientific and technical to front-line practitioners. Prior to rejoining U of T he served as Chief Academic Strategist with Coursera, a global platform that connects universities and learners with online courses.
Dr. Goel brings extensive experience in health care evaluation and research to this role. He has been engaged in a broad range of research activities related to public health, particularly focusing on chronic disease prevention and control. These research activities include the economic evaluation of health care interventions, optimization of the use of laboratory tests in the periodic health examination and the development of measures for health status assessment. In addition, Dr. Goel has served on numerous local, provincial and federal committees related to public health as well as being involved in international activities.
Other Affiliations
Adjunct Senior Scientist, Public Health Ontario;
Adjunct Senior Scientist, Institute for Clinical Evaluative Sciences;
Representative Publications
Ogilvie GS, Smith L, van Niekerk DJ, Khurshed F, Krajden M, Saraiya M, Goel V, Rimer B, Greene S, Hobbs S, Coldman A3, Franco EL. Women's Intentions To Receive Cervical Cancer Screening With Primary Human Papillomavirus Testing. International Journal of Cancer 2013; 133: 2934-2943.
Rosella LC, Wilson K, Crowcroft NS, Chu A, Upshur R, Willison D, Deeks SL, Schwartz B, Tustin J, Sider D, Goel V. Pandemic H1N1 in Canada and the use of evidence in developing public health policies–a policy analysis. Social Science and Medicine. 2013; 83:1-9.
Wodchis WP, Calzavara A, Manson H, Goel V. High-cost health care users in Ontario, Canada: demographic, socio-economic, and health status characteristics. BMC Health Services Research. 2014; 14: 532.
Goel V. Building Public Health Ontario. Canadian Journal of Public Health. 2012; 103: 267-269.
Dobrow MJ, Goel V, Lemieux-Charles L, Black NA. The impact of context on evidence utilization: a framework for expert groups developing health policy recommendations. Soc Sci Med. 2006; 63:1811-24.
Kopec JA, Goel V, Bunting PS, Neuman J, Sayre EC, Warde P, Levers P, Fleshner N. Screening with prostate specific antigen and metastatic prostate cancer risk: a population based case-control study. J Urol. 2005; 174:495-9
Madlensky L, Esplen MJ, Goel V. Reasons given by relatives of colorectal cancer patients for not undergoing screening. Prev Med. 2004; 39:643-8.
Goel V. What do we do with the SARS reports? Healthc Q. 2004;7:28-30.
Goel V. Appraising organised screening programmes for testing for genetic susceptibility to cancer. BMJ. 2001; 322:1174-8.
McIsaac WJ, Goel V. Effect of An Explicit Decision Support Tool on Decisions to Prescribe Antibiotics. Medical Decision Making 1998; 18: 220-228.
Goel V, Iron K, Williams JI. Enthusiasm or Uncertainty: Mammography Utilization in Ontario. Journal of Epidemiology and Community Health 1997; 51:378-382.