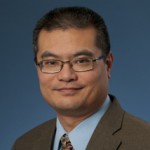 Faculty Member
Geoffrey Liu MD MSc
Email Address(es)

Office Phone

416-946-4501 x 3428

Office Address

Princess Margaret Hospital/Ontario Cancer Institute 610 University Avenue, 7-124 Toronto, ON M5G2M9

Website(s)

Division(s)/Institute(s)

Position

Professor

SGS Status

Full Member

Appointment Status

Non budgtry Crss
Research Interests
Pharmacogenetic Epidemiology of Cancer Outcomes
Radiogenomic Epidemiology of Cancer Outcomes
Cancer Survivorship
Molecular Epidemiology of Cancer
Methods Research in Biomarker and Correlative Science of Clinical Trials
Methods Research in Performing Large Scale Molecular Epidemiologic Studies of Outcome in Head and neck, Gastroesophageal, Lung, Hepatobiliary and pancreactic, and Testicular cancers, Thymomas and Mesotheliomas
Methods Research in Large Scale Collection of Cancer Patient Reported Outcomes Integration of outcomes and epidemiological research to improve pharmacogenetic
Knowledge Translation Research in Pharmacogenetics
Education & Training History
B.Sc. University of Toronto, Biochemistry/Human Biology
M.D. University of Toronto
M.Sc. University of Toronto, Clincial Epidemiology
Other Affiliations
Cancer Care Ontario (CCO) Research Chair in Experimental Therapeutics and Population Studies
American Board of Internal Medicine, Medical Oncology Board Certification
Canadian Society of Epidemiology and Biostatistics – Member
Pharmacogenetics Research Network – Affiliate Member
International Society for Pharmacoepidemiology (ISPE) – Member
National Lung Cancer Partnership (formerly Women Against Lung Cancer) – Lifetime Member
International Association for the Study of Lung Cancer – Member
Molecular Epidemiology Group, AACR – Member
American Association of Cancer Research (AACR) – Member
American Society of Clinical Oncology (ASCO) – Member
Primary Teaching Responsibilities
Pharmacogenetic Epidemiology
Supervision of students and post-doctoral fellows
COMBIEL training sessions: twice per week in the summer, and biweekly during the academic year, which involve a mix of didactic and problem-solving real case examples from the trainee projects
Professional Summary & Appointments
Associate Professor, Departments of Medicine, Medical Biophysics, and Epidemiology, University of Toronto, and Dalla Lana School of Public Health
Co-Director, COMBIEL, Cancer Outcomes, Medicine, Biostatistics, Informatics Epidemiology and Laboratory Interdisciplinary Training Initiative, Princess Margaret Hospital and Ontario Cancer Institute
Co-Director, On-PROST, Ontario Patient Reported Outcomes of Symptoms and Toxicity, Applied Clinical Research Unit
Cancer Care Ontario (CCO) Research Chair in Experimental Therapeutics and Population Studies, Ontario, Canada
Director, Applied Molecular Profiling Pharmacogenetic Epidemiology Laboratory (AMPPEL)
Alan B. Brown Chair in Molecular Genomics, Princess Margaret Hospital and Ontario Cancer Institute, University of Toronto, Toronto, ON
Staff Physician, University Health Network, Toronto, ON
Staff Physician, Mount Sinai Hospital, Toronto, ON
Honours & Awards
Alan B. Brown Chair in Molecular Genomics, Princess Margaret Hospital
Cancer Care Ontario Chair in Experimental Therapeutics and Population Studies
2008 Chair, International Society of Pharmacoepidemiology, Molecular Epidemiology and Pharmacogenetics Working Group
2008 William E. Rawls Award, National Cancer Institute of Canada
2001-2007 Doris Duke Clinician Scienti
Current Research Projects
1999 – current: Molecular and Pharmacogenetic Epidemiology of Esophageal Cancer Survival (funded by CIHR, NCI(US))
2006 – current: Molecular and Pharmacogenetic Epidemiology of Lung Cancer Prognosis (funded by OICR, Lung Cancer Foundation of America)
2007 – current: Genetic Polymorphisms and Head and Neck Cancer Survival (funded by CCSRI)
2006 – current: Mesothelioma and serologic biomarkers
2007 – current: Biomarkers in Early Detection of Lung Cancer Risk and Screening (funded by TRFI)
2008 – current; In vivo Pharmacogenomics testing of primary human gastroesophageal cancer xenografts; development and characterization of new xenograft models
2008 – current; Tumour initiating cells in gastroesophageal cancer
2008 – current; BRM pathway, germline polymorphisms and lung cancer risk
2009 – current: Methodological development of retrospective cancer data collection in Ontario (funded by CCO)
2009 – current; Novel resistance mechanisms in testicular cancer therapy
2011 – current; Pancreatic cancer pharmacogenetics (funded by OICR)
2011 – current; On-PROST: Ontario patient reported outcomes of symptoms and toxicity (funded by CCO)
2012 – current; Ovarian cancer pharmacogenetics (funded by CIHR)
2012 – current; Resectable gastric cancer response to chemotherapy (funded by CIHR)
Representative Publications
Ten selected of over 100. Underlined names are supervised by G. Liu
1. Habbous S, Pang V, Eng L, Xu W, Kurtz G, Liu FF, Mackay HJ, Amir E, Liu G. p53 Arg72Pro Polymorphism, HPV status and Initiation, Progression and Development of Cervical Cancer: A Systematic Review and Meta-analysis. Clin Cancer Res. 2012 Oct 12. [Epub ahead of print]
2. Eng L, Azad AK, Habbous S, Pang V, Xu W, Maitland-van der Zee AH, Savas S, Mackay HJ, Amir E, Liu G. Vascular endothelial growth factor pathway polymorphisms as prognostic and pharmacogenetic factors in cancer: A systematic review and meta-analysis. Clin Cancer Res. 2012 Sep 1;18(17):4526-37. Epub 2012 Jun 25
3. Azad AK, Bairati I, Samson E, Cheng D, Cheng L, Mirshams M, Savas S, Waldron J, Goldstein D, Xu W, Meyer F, Liu G. Genetic Sequence Variants and the Development of Secondary Primary Cancers in Patients with Head and Neck Cancers. Cancer. 2011 Aug 25. doi: 10.1002/cncr.26446.
4. Abul Kalam Azad, Elodie Samson, Dangxiao Cheng, Maryam Mirshams, Sevtap Savas, John Waldron, Wei Xu, Isabelle Bairati, Francois Meyer, Geoffrey Liu. Validation of Genetic Sequence Variants as Prognostic Factors in Early Stage Head and Neck Squamous Cell Cancer Survival. Clin Cancer Res. 2012 Jan 1;18(1):196-206. Epub 2011 Nov 10.
5. Bradbury PA, Heist RS, Kulke MH, Zhou W, Marshall AL, Miller DP, Su L, Park S, Temel J, Fidias P, Sequist L, Lynch TJ, Wain JC, Shepherd FA, Christiani DC, Liu G. A Rapid Outcomes Ascertainment System Improves the Quality of Prognostic and Pharmacogenetic Outcomes from Observational Studies. Cancer Epidemiol Biomarkers Prev., 2008; 17(1):204-11.
6. Bradbury PA, Kulke MH, Heist RS, Pintilie M, Zhou W, Marshall AL, Asomaning K, Su L, Nishioka NS, Shepherd FA, Lynch TJ, Wain JC, Christiani DC, Liu G. DNA Repair Gene Polymorphisms Predict Clinical Outcome. Pharmacogenet Genomics. 2009 Aug;19(8):613-25.
7. Cheung WY, Zhai R, Kulke M, Heist RS, Asomaning K, Ma C, Wang Z, Su L, Lanuti M, Tanabe KK, Christiani DC, Liu G. Epidermal Growth Factor (EGF) A61G Gene Polymorphism, Gastroesophageal Reflux Disease (GERD), and Esophageal Adenocarcinoma (EAC) Risk. Carcinogenesis. 2009 Aug;30(8):1363-7.
8. Cescon DW, Bradbury PA, Asomaning K, Zhai R, Hopkins J, Kulke MH, Su L, Heist RS, Wain JC, Lynch TJ, Christisani DC, Liu G. p53, MDM2, and CCND1 polymorphisms in esophageal cancer prognosis. Clin Cancer Res. Clin Cancer Res. 2009 May 1;15(9):3103-9.
9. Savas S, Geraci J, Jurisica I, Liu G. A comprehensive catalogue of functional genetic variations from the EGFR pathway: protein-protein interaction analysis reveals novel genes and polymorphisms important for cancer research. Int J Cancer 2009 Sep 15;125(6):1257-65.
10. Wheatley-Price P, Yang B, Patel D, Ma C, Xu W, Anraku M, O'Sullivan B, Leighl N, Ron Feld, Cho BCJ, de Perrot M, Liu G. Mesothelin as a marker of response in malignant pleural mesothelioma. J Clin Oncol 2010 Jul 10;28(20):3316-22.