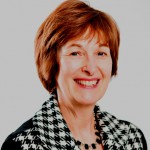 Faculty Member
Renee Felice Lyons BA (Dalhousie University), MEd (Xavier University), PhD (University of Oregon)
Email Address(es)

Office Phone

416-461-8252 (2070)

Office Address

Bridgepoint Chair in Complex Chronic Disease Research, TD Scientific Director Bridgepoint Collaboratory for Research and Innovation, 14 St Matthews Road Toronto, Ontario M4M 2B5

Website(s)

Curriculum Vitae

Division(s)/Institute(s)

Position

Professor

SGS Status

Full Member

Appointment Status

Status Only
Research Interests
Chronic disease prevention and management
Complex chronic disease and population health
Health and design of communities
Health and social relationships/integration
Rural and urban health
Knowledge translation
Health systems re-engineering
Stroke and health policy
Education & Training History
Dalhousie University BA (Sociology and Psychology – 1967-70)
Xavier University, Cincinnati MEd (Counselling Psychology – 1970-71)
University of Oregon PhD (Health Studies – Chronic disease adaptation and management – 1979-82)
Visiting Scholar – University of California at Los Angeles (Dept. of Psychology – 1985); Dalhousie University (Dept. of Psychology-1995); University of Southern California (Annenburg School of Communication Studies – 2000); University of Oxford (Green Templeton College and John Radcliffe Hospital- 2008)
Other Affiliations
Adjunct Professor (Past Tier 1 CRC), Faculty of Health Professions, Dalhousie University
Professor, Dalla Lana School of Public Health, University of Toronto (status)
Professor, Institute of Health Policy, Management and Evaluation, University of Toronto (status)
Primary Teaching Responsibilities
My current full time focus is research institute development at Bridgepoint Health: research team and grants development, leadership in advancing policy and practice in complex chronic disease, and the mentoring of young scientists, graduate students and post doctoral fellows. I was a faculty member at Dalhousie University for 30 years. The focus of my teaching and research has been chronic disease (coping and adaptation, social integration and relationships, health systems, and knowledge translation).
Professional Summary & Appointments
2013 Member, Knowledge Management Workgroup, Vascular Health Coalition
2013 Representative, University of Toronto, Dalla Lana School of Public Medicine, for the CIHR Open Operating Grant Reforms
2007-2013 Science Advisory Board, Health Canada
2012 Board Member, Social Research and Demonstration Corporation (SRDC)
2012 Board Member, Children and Youth in Challenging Contexts (CYCC) Network
2012 Invited consultation for research development, Canadian Partnership Against Cancer (CPAC)
2012 Member, Education & Knowledge Translation Advisory Group, Toronto Stroke Network
2012 Scientific Officer, CIHR and Grand Challenges Canada, Canadian Rising Stars in Global Health Competition
2012 Reviewer, 2012 Competition for CIHR Training Grant in Population Intervention for Chronic Disease Prevention (PICPD)
2011 Judge, 2011 Institute of Public Administration of Canada (IPAC)/Deloitte Public Sector Leadership Awards (Health)
2011 Scientific Officer, CIHR, Conceptual and Theoretical Advances in Health Research Competition
2011 Theme lead, Complex care and Multi-Comorbidity, Population Health and Aging Network, NCE
2011 Judge, Rotman Design Challenge (March 25-6) Health and Wellness – teams from the US and Canada), Uof T
2009-2011 Expert Panel on Chronic Disease, Canadian Academy of Health Sciences: What Will It Take to Improve Outcomes for Patients with Chronic Disease in Canada?
2010 External Reviewer, Application for Promotion to Professor file, Rehabilitation Sciences, Faculty of Medicine, University of Toronto
2010 Scientific Officer, CIHR, Innovations in Health Research: Operating Grants Competition
2010 External Examiner, PhD candidate, Faculty of Nursing, University of Alberta (Engaging with nature: a participatory study in the promotion of health
2007-2010 Advisory Committee, Michael Smith Foundation, Vancouver, BC, ACT NOW
2004-2010 Tier 1 Canada Research Chair – Health Promotion Dalhousie University
2007-2009 National Committee on Programs and Peer Review, CIHR
2005-2013 Science Advisory Board, Health Canada
2005-2007 Scientific Committee for Oversight of Grants and Awards, CIHR
Honours & Awards
Research Awards – Principal Investigator
2013-2016 Young-Mid Life Adults with Chronic Conditions in Complex Continuing Care. MOHLTC Health System Research Fund.
Co-Principal Investigator with K. Kuluski, Bridgepoint Health and University of Toronto. $315,300.
2007-2012 Optimizing Investments in the Built Environment to Reduce Adolescent Obesity. Heart and Stroke Foundation of Canada and CIHR- $597,437. Co-PI with Jill Grant (Chair, Planning and Architecture, Dalhousie University).
2005-2011 Beyond Dissemination: Assessing Receptor Capacity to Use Research in Health Systems and Policy. CIHR. Co-PI with Grace Warner (School of Occupational Therapy, Dalhousie University). $294,720.
2003-2011 Reconfiguring Physical and Social Environments to Improve Health. CIHR – IPPH, Centres for Research Development Competition- $2,133,772.
2005-2010 Knowledge Translation Lab in Health Promotion and Health Policy Canadian Foundation for Innovation Award – $118,590.
2001-2009 Community Alliance for the Remodelling of Rural Health Systems: Taking Action on Chronic Illness. CIHR and Heart and Stroke Foundation of Canada – Community Alliance for Health Research – $919,675.
2003-2008 Health Systems Utilization of Stroke Research. Canadian Stroke Network (Networks of Centres of Excellence Program), Ottawa. Peer reviewed award for 4 stroke knowledge translation projects, including a four-province health systems intervention – $900,040.
2001-2007 Brain Gain: Increasing the Capacity of Rural Communities to Use Social Science Research to Influence and Develop Policy. Social Sciences and Humanities Research Council of Canada, Community-University Research Alliance CURA competition – $1,007,035.
2002-2004 The Silent Epidemic of Oral Disease: Evaluating Continuity of Care and Policies for the Oral Health of Seniors. Canadian Health Services Research Foundation and Nova Scotia Health Research Foundation – $300,000. Co-PI with Mary McNally (Faculty of Dentistry, Dalhousie University).
2001-2004 Aging Well in Rural Places: Development and Pilot Testing of a Community-Based Strategy for Addressing Depression in Seniors in Atlantic Canada. Health Canada, Rural & Remote Health Innovations Initiative – $315,682.
Current Research Projects
Renée Lyons holds the first Bridgepoint Chair in Complex Chronic Disease (University of Toronto and Bridgepoint Health) and is Scientific Director of the Collaboratory for Research and Innovation, Bridgepoint Health. She is a Professor in the Dalla Lana School of Public Health and the Institute for Health Policy, Management and Evaluation in the Faculty of Medicine, University of Toronto. Dr. Lyons has been a faculty member at Dalhousie University since 1981 where she held a Tier 1 Canada Research Chair in Health Promotion and was the Senior Scientist at the Atlantic Health Promotion Research Centre (www.ahprc.dal.ca), with appointments in the School of Health and Human Performance and the Department of Psychology. She is a member of the Health Canada/Public Health Agency of Canada Science Advisory Board, a Fellow of the Canadian Academy of Health Sciences, a Board Member of the Science Research and Demonstration Corporation, and a Board Member of the NCE-KM, Children and Youth in Challenging Contexts.
The goal of the Bridgepoint Chair in Complex Chronic Disease (CCD) Research is the development of a leading-edge research program in CCD and using multi-institutional collaborations on CCD research development and its use. The Bridgepoint Collaboratory for Research and Innovation has been in operation since late 2009. Its focus is health systems re-engineering for people with complex multiple health conditions around three integrated research themes: service and policy, clinical excellence, and technology and design solutions. The Collaboratory engages in training and mentoring of CCD scientists and students, development of new research methods, grants development, and knowledge mobilization. The Collaboratory has also developed a governance structure and committees, inter-disciplinary, inter-sectoral collaborations to advance research, donations and grants of approximately $3 million, and mechanisms to help use the research findings at Bridgepoint and elsewhere. Research proposals totaling over $5 million will have been submitted for funding this year.
In addition to her responsibilities at the Bridgepoint Collaboratory, Dr. Lyons is currently involved with the Oxford International Learning Collaborative, focused on evidence development and use in the fundamentals of health service. She is also completing a 5-year nationally funded (CIHR, Heart and Stroke Foundation) multi-method study on optimizing policy investments in the built environment to address youth obesity, comparing rural, urban and suburban communities and socioeconomic status.
Dr. Lyons' research has focused on chronic disease, health systems improvement and knowledge translation. She was co-editor for the first book on multiple chronic conditions, When people live with multiple chronic diseases: a collaborative approach to an emerging global challenge (Escuela Andaluza de Salud Publica, 2010). A book chapter on the Future of chronic illness: translating what we know into what we do in Translating chronic illness into practice (Wiley-Blackwell, 2010) examines how we should use evidence to take bolder country-wide and global action on chronic illness prevention and management.
Dr. Lyons has been principal investigator for over $25M in health research funding for large health research projects in rural health, stroke and health systems reform, public health, oral health of seniors, and chronic disease prevention in midlife and youth, settings and health, and human relationships and chronic illness. These funds were awarded primarily through national peer review research competitions. She has conducted research and published in knowledge translation (KT), including work with several Canadian Networks of Centres of Excellence (e.g. Stroke, Water) on KT development.
Dr. Lyons was Special Advisor to Alan Bernstein, President of CIHR, providing research development leadership in rural and northern health. She also collaborated with over 100 researchers in the social sciences and humanities (SS/H) to develop a document explaining health related disciplines in SS/H and advances in social and behavioral research to facilitate cross-pillar collaboration. She was a member of the Canadian Academy of Health Science's review panel on chronic disease in Canada (2009-10). Dr. Lyons provided research expertise and training to guide public health development in the Balkans and was a member of the Michael Smith Foundation expert advisory group for the evaluation of the BC ACT NOW initiative.
In 2009, Dr. Lyons was a visiting scholar in Green Templeton College, University of Oxford, and hosted a Knowledge Translation Symposium with Alastair Buchan, Oxford's Head of Medical Sciences. The symposium presenters collaborated on a monograph (www.ahprc.dal.ca) about innovative approaches and roadblocks in knowledge utilization in health services and public health.
Dr. Lyons received her university education at Dalhousie University (BA in psychology and sociology), Xavier University, Cincinnati (MEd in counselling psychology), the University of Oregon, Eugene (PhD in health studies – coping and adaptation and systems improvements in chronic disease management).
Representative Publications
Schaink, A. K., Kuluski, K., Lyons, R. F., Fortin, M., Jadad, A., Upshur, R. E., & Wodchis, W. (2012). A scoping review and thematic classification of patient complexity: Offering a unifying framework. Journal of Comorbidity, 2, 1–9. JA
Shearer, C. L., Blanchard, C., Kirk, S.F.L., Lyons, R., Dummer, T., Pitter, R., Rainham, D., Rehman, L., Shields, C., & Sim, M. (2012). Physical activity and nutrition among youth in rural, suburban, and urban neighbourhood types. Canadian Journal of Public Health, 103(Suppl. 3), 555-560. JA
Jeffs, L., Kitto S., Merkley, J., Lyons, R.F., & Bell, C.M. (2012). Safety threats and opportunities to improve interfacility care transitions: insights from patients and family members. Patient Preference and Adherence. 6, 711-718. JA
Warner G., Lyons, R., Parker, V., & Phillips, S. (2011). Advancing coordinated care in four provincial healthcare systems: Evaluating a knowledge-exchange intervention. Healthcare Policy, 7(1), 80-94. JA
Lyons, R., (Ed.). (2010). Using evidence: Advances and debates in bridging health research and action. Halifax, Canada: Dalhousie University.
Alvaro, C., Lyons, R., Warner, G., Hobfoll, Martens, P., Brown R., & Labonte, R. (2010). Conservation of resources theory and research use in health systems. Implementation Science, 5(79), 1-20. JA
Alvaro, C., Jackson, L., Kirk, S., McHugh, T.L., Chircop, A., & Lyons, R. (2010). Moving Canadian governmental policies beyond a focus on individual lifestyle: some insights from complexity and critical theories. Health Promotion International, 26(1), 91-99.
Jadad, A., Cabrera, A., Lyons, R., Martos, F., & Smith, R. (Eds.). (2010). When people live with multiple chronic diseases: a Collaborative approach to an emerging global challenge. Granada, Spain; Escuela Andaluza de Salud Publica. B
Lyons, R., McIntyre, L., Warner, G., Alvaro, C., Buchan, A., Reckless, I., & Kitson, A. (2010). Chronic illness research: Translating what we know into what we do. In D. Kralik. B. Patterson, & V. Coates (Eds.), Translating chronic illness research into practice (pp. 163-198). Oxford, UK; Wiley-Blackwell. IBC
Lyons, R. (2009). Health Promotion Practices in the Americas: Values and Research. POP News, Issue 20, November 2009. BR
Crowell, S., Langille, L., & Lyons, R. (2009). Six key roles of health promotion research centres: the Atlantic Canada experience. Health Promotion International, 24(1), 78-87. JA
Jackson, L., Langille, L., Lyons, R., Hughes, J. Martin, D., & Winstanley, V. (2009). Does moving from a high poverty neighbourhood improve mental health? A realist review of "Moving to Opportunity". Health and Place, 15(4), 961–970. JA
Lyons, R., & LaFontaine, J. (2009). Disabilities, chronic illness, and relationship functioning. In Reis, H., & Sprecher, S. (Eds.), Encyclopedia of human relationships (pp. 420-423), Thousand Oaks, CA: Sage. O
Lyons, R. F., Rudd, A.G., & Alvaro, C. (2008). Advances in stroke policy. Stroke, 39, 264-267. JA
Newell, J.M., Lyons, R., Martin-Misener, R., & Shearer, C.L. (2009). Creating a supportive environment for living with stroke in rural areas: Two low-cost community-based interventions. Topics in Stroke Rehabilitation, 16(2), 147-156. JA
Langille, L., Munro, I., Romanow, P., Lyons, R., Bull, A & Williams, P. (2008). Building collaborative capacity for research and influencing policy: The Rural Communities Impacting Policy (RCIP) Project. Journal of Rural and Community Development, 3(3), 23-55. JA
Cameron, J., Rappolt, S., Lewis, M., Lyons, R., Warner, G., & Silver, F. (2007). Development and implementation of the Ontario Stroke System: the use of evidence. International Journal of Integrated Health Care, 7(22). JA
Lyons, R.F., Allain, M., Crowell, S., Wilson-Forsberg, S., MacKay, M., Manuel, R., Murnaghan, D., et al. (2007). The Atlantic Provinces: A have or have-not region for health promotion? In M. O'Neill, S. Dupéré, A. Pederson, & I. Rootman (Eds.). Health promotion in Canada, (pp. 187-198) Toronto: University of Toronto Press. IBC
Lyons R.F., Allain, M., Crowell, S., Wilson-Forsberg, S., MacKay, M., Manuel, R., Murnaghan, D., et al (2007). Les provinces atlantiques: une région favorable ou non á la promotion de la santé? Invited book chapter in Promotion de la santé au Canada et au Québec, perspectives critiques. (Sous la direction de Michel O'Neill, Sophie Dupéré, Ann Pederson, and Irving Rootman). Quebec: Les Presses de l'Université Laval. IBC
Lyons, R.F., Warner, G., Langille, L., & Phillips, S. (2006). Piloting knowledge brokers to enhance health system utilization of stroke research. A casebook of health services and policy research knowledge translation stories. Ottawa, Canada: CIHR. IBC
Lyons, R.F., & Langille, L. (2005). Difficult relationships and relationship difficulties: Relationship adaptation and chronic health problems. In D.C Kirkpatrick, S. Duck & M.K. Foley (Eds.), Relating difficulty: The processes of constructing and managing difficult interaction (pp. 203-224). Mahwah, NJ: L. Erlbaum and Associates. IBC
Lyons, R., McGrath, P., Jackson, L., & Stone, M. (eds.). (2005). The social sciences and humanities in health research: A Canadian snapshot of fields of study and innovative approaches to understanding and addressing health issues. A joint CIHR/SSHRC document, Ottawa, Ontario. IBC
Lyons, R.F., Taylor, B., & Langille, L. (2004). Policy strategies to foster active living. In R.D. Steadward, E.J. Watkinson & G.D. Wheeler (eds.), Adapted physical activity (pp. 99-114). Edmonton, Canada: University of Alberta Press. IBC
Lyons, R.F. (2004). Zukunftige herausforderungen fur theorie und praxis. (Communal coping: Future challenges for theory and praxis). In P. Buchwald, C. Schwarzer & S. Hobfoll. (Eds), Stress gemeinsam bewaltigen (pp. 191-204). Hogrefe-verlag: Gottingen. IBC
Martin-Misener, R., Lyons, R.F., & Vollman, A. (2002). Providing evidence about the processes needed to change health systems: A role for evaluation – The Community Alliance for Remodeling Rural Health Systems. Proceedings of Canadian Evaluation Society Conference, 2002, Halifax, Canada (May 5-8, 2002) P
Mickelson, K., Lyons, R.F., Sullivan, M.J.L., & Coyne, J.C. (2001). Yours, mine, ours: The relational context of communal coping. In B.R. Sarason & S.W. Duck (Eds.), Personal relationships: Implications for clinical and community psychology (pp. 181-200). Sussex, UK: J. Wiley and Sons. IBC
Lyons, R., Duck, S., Langille, L., & Sullivan, M. (2000). Mobilizing support in chronic illness: A relationships perspective. In M.J. Stewart (Ed.), Chronic Conditions and Caregiving in Canada (pp. 223-246). Toronto: University of Toronto Press. IBC