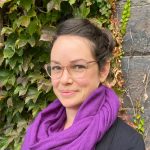 Faculty Member
Amaya Perez-​Brumer MSc, PhD
Email Address(es)

Website(s)

Division(s)/Institute(s)

Position

Assistant Professor

SGS Status

Associate Member

Appointment Status

Tenure Stream

Admin Faculty Appointment

Social & Behavioural Health Science
Research Interests
Dr. Amaya Perez-Brumer is a Latinx critical global health scholar, Assistant Professor in the Division of Social and Behavioural Health Science at the University of Toronto, and a CIHR Canada Research Chair in Global Health Intervention Justice. She is also a status-only faculty member for the Women & Gender Studies Institute at the University of Toronto. She earned her Ph.D. in Sociomedical Sciences from Columbia University (2019) and hold an MSc in Social and Behavioral Sciences from the Harvard T.H. Chan School of Public Health (2013).
Three central aims drive her research:
(1) d

rawing on gender and queer theory

 to examine the consequences of social marginalization, stigma, and exposure to violence on HIV prevention and care outcomes for communities most impacted;
(2) to design and implement critical HIV biosocial interventions that promotes equity through globally interconnected work;
(3) to analyze from a science and technology studies (STS) perspective how dimensions of power and political-economic forces are entangled with how we do global public health research and policy-making.
Her scholarship integrates social science theory with innovative mixed methodological approaches to improve HIV prevention intervention implementation and acceptability among people of diverse genders and sexualities globally. She has published two edited books and 73 peer-reviewed articles and is currently the Principal Investigator of a Canadian Social Science and Humanities Research Council (SSHRC) Insight Development Award and a SSHRC Partnership Engage Award developing justice-informed global health strategies for gender and sexual minority communities in Peru.
She also serves as an Associate Editor for Global Public Health holds a secondary academic affiliation with the AIDS Clinical Trials Network (ACTG) on A5403 "Giving standardized estradiol therapy in transgender women to research interactions with HIV therapy: the GET IT RIgHT Study". She is also an early career Bridge Fellow on the HIV Prevention Trials Network (HPTN) protocol 094, "INTEGRA: A Vanguard Study of Integrated Strategies for Linking Persons with Opioid Use Disorder to Care and Prevention for Addiction, HIV, HCV and Primary Care".
---
Primary Teaching Responsibilities
CHL5102: Social and Political Forces in Health
CHL5420: Global Health Research Methods
---
Representative Publications
Lee RS, Collins K, Perez-Brumer A. (2022) COVID-19 violence and the structural determinants of death: Canada's seasonal agricultural worker programme, Global Public Health, 1-10.
Philbin MM, Perez-Brumer A. (2022). Promise, perils and cautious optimism: the next frontier in long-acting modalities for the treatment and prevention of HIV. Current Opinion in HIV and AIDS 17(2), 72.
Perez-Brumer A, Silva-Santisteban A. (2021) The Peruvian COVID-19 vaccine scandal and re-thinking the path to public trust. Global Public Health, 1-7.
Perez-Brumer A, Hill D, Andrade-Romo Z, Solari K, Adams E, Logie C, Silva-Santisteban A. (2021) Vaccines for all? A Rapid Scoping Review of COVID-19 Vaccine Access for Venezuelan Migrants in Latin America. Migration and Health, 4, 100072.
Perez-Brumer A, Naz-McLean S, Huerta L, Salazar X, Lama JR, Sanchez J, Silva-Santisteban A, Reisner SL, Mayer KH, Clark JL. (2021) The wisdom of mistrust: qualitative insights from transgender women who participated in PrEP research in Lima, Peru. Journal of the International AIDS Society. 24(9), e25769
Reisner S, Silva-Santisteban A, Salazar X, Vilela J**, D'Amico L, Perez-Brumer A. (2021) "Existimos": Health and social needs of transgender men in Lima, Peru. PLoS One, 16(8), e0254494
Perez-Brumer A, Silva-Santisteban A. (2020) COVID-19 policies can perpetuate violence against transgender communities: Insights from Peru. AIDS Behav. 2020;1-3
Scheim AI, Perez-Brumer A, Bauer GR. Gender-concordant identity documents and mental health among transgender adults in the USA: a cross-sectional study. Lancet Public Health. 2020;5(4):e196‐ doi:10.1016/S2468-2667(20)30032-3