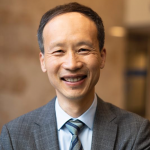 Faculty Member
Xiaolin Wei MD, MPH, PhD
Email Address(es)

Office Phone

416 978 2020

Office Address

582-155 College Street, Toronto, ON M5T 3M7, Canada

Division(s)/Institute(s)

Position

Associate Professor

SGS Status

Full Member

Appointment Status

Tenure Stream

Currently Accepting Doctoral Students?

Yes
Research Interests
Global health focusing on clinical public health interventions in prevention and control of antimicrobial resistance (AMR), tuberculosis (TB), and hypertension and diabetes in low and middle-income countries (LMICs)
Implementation science, operations research, randomized controlled trials, cohort studies
Primary care reform and policy evaluation
Biography
I am the Dalla Lana Chair in Global Health Policy.
As a physician, public health specialist, and public health researcher, I have trained and taught in China (including Hong Kong), the UK and Canada. For the past 20 years, I have helped lead a global implementation science team to successfully explore interventions that combine public health education and stewardship around TB, respiratory infections, hypertension and diabetes at the point of clinical care delivery. I also focus on combined strategies involving social inclusion, gender responsiveness and poverty reduction in China, the Philippines, Indonesia, Pakistan, Nepal, Bangladesh, Uganda, Ghana, and Swaziland.
I am a member of the Board of Directors and served as immediate Vice-President of the International Union Against Tuberculosis and Lung Disease.
Education & training history
2012- Fellow, Faculty of Public Health, UK
2004 – PhD, University of Toronto, Canada
2001 – MPH, Peking University, China
1998 – MD, Jining Medical School, China
Teaching responsibilities
CHL5005H (PhD stream): Introduction to Public Health Research
Supervising PhD and Masters students in IHPME and PHS
Awards
2017 – Diabetes Action Canada Mentorship Award
2004 – Ted Goldenberg Award for Academic Excellence, Department of Health Policy, Management and Evaluation, University of Toronto
2001 – Best Graduate Award, Peking University, Beijing, China
Research
I have published more than 100 papers, including in high-impact journals such as The Lancet, PLoS Med, and the Bulletin of the World Health Organization. As a principal investigator, I have received more than $7 million in funding for research into TB control.
Early in my career, I identified a need to better understand the epidemiology of TB — and its intersection with health service delivery — in many of the poorest countries of the world. The failure to control this highly treatable disease has been a puzzle, and a frustration.
As a researcher in both TB and health systems, I began to see that the guidelines devised by world health authorities often didn't match the capacities of local health delivery systems, not just at the nation level, but within countries; and this was leading to underdiagnosis, underreporting of cases and poor treatment outcomes. To address this problem, I focused on research to identify undiagnosed TB while simultaneously researching primary care delivery in Asia and Africa.
At the same time, I began to conduct interventional studies that showed the efficacy of empowering local communities to treat TB, identifying new cases, using new technologies to improve treatment adherence and financial incentives to encourage treatment completion. My large-scale interventional studies of hypertension, diabetes and antibiotic overuse in China have enriched my understanding of the links between TB and other diseases of poverty — and the challenges of delivering complex health services in low-income localities. Traditional TB guidelines and interventions are often formulated in a world away from the remote villages and poor inner cities where they're most needed –where the shame and stigma of this disease of poverty, the lack of health delivery infrastructures, and a distrust of authority makes these well-intentioned guidelines difficult to implement.
After two decades of studying why traditional interventions fail, I began to employ implementation science frameworks in solving practical problems, and identify successes at the local level that can be scaled up. I am leading two COVID-19 projects to develop guidelines for health care workers in China, the Philippines and Sri Lanka.
I addition, I have founded the Global Implementation Science Lab under DLSPH to lead the future development of effective and impactful solutions in global health.
Selected publications in antimicrobial resistance for respiratory infections:
Wei X, Zhang Z, Hicks JP, Walley JD, King R, Newell JN, Yin, J., Zeng, J., Guo, Y., Lin, M., Upshur, R. E. G., Sun, Q. "Long-term outcomes of an educational intervention to reduce antibiotic prescribing for childhood upper respiratory tract infections in rural China: Follow-up of a cluster-randomised controlled trial". PLoS Med. 2019;16(2):e1002733.
Zhang Z, Dawkins B, Hicks JP, Walley JD, Hulme C, Elsey H., Deng SM., Lin M., Zeng J., Wei, X*. "Cost-effectiveness analysis of a multi-dimensional intervention to reduce inappropriate antibiotic prescribing for children with upper respiratory tract infections in China". Tropical medicine & international health : TM & IH. 2018;23(10):1092-100.
Wei X, Zhang Z, Walley JD, Hicks JP, Zeng J, Deng S, Zhou Y, Yin J, Newell JN, Sun Q, Zou G, Guo Y, Upshur R, Lin M. "Effect of a training and educational intervention for physicians and caregivers on antibiotic prescribing for upper respiratory tract infections in children at primary care facilities in rural China: a cluster-randomised controlled trial". Lancet Glob Health. 2017;5(12):e1258-e67.
Wei X, Yin J, Walley JD, Zhang Z, Hicks JP, Zhou Y, Sun Q, Zeng J., Lin M. "Impact of China's essential medicines scheme and zero-mark-up policy on antibiotic prescriptions in county hospitals: a mixed methods study". Tropical medicine & international health : TM & IH. 2017;22(9):1166-74.
Hu Y, Walley J, Chou R, Tucker JD, Harwell JI, Wu X, Yin J, Zou G, Wei X*. "Interventions to reduce childhood antibiotic prescribing for upper respiratory infections: systematic review and meta-analysis". J Epidemiol Community Health. 2016;70:1162-70.
Research advancing understanding of TB proliferation, diagnosis and treatment:
Walker IF, Shi OM, Hicks JP, Elsey H, Wei X., Menzies D., Falzon D, Migliori GB, Perez-Guzman C, Vargas MH, Garcia-Garcia L, Osornio JS, Ponce-De-Leon A, Van der Walt M, Newell JN. "Analysis of loss to follow up in 4,099 multidrug-resistant pulmonary tuberculosis patients". European Respiratory Journal. 2019; 54(1)
Wei X, Hicks JP, Pande P, Zhang Z, Haldane V, Liu XQ, et al. "Protocol for a randomised controlled trial to evaluate the effectiveness of improving tuberculosis patients' treatment adherence via electronic monitors and an app versus usual care in Tibet". Trials. 2019;20(1):273
Li B, Zhang XL, Guo J, Wang J, Pianduo B, Wei XL, Ying TT, Hu J. "The Prevalence of pulmonary tuberculosis in Tibet Autonomous Region, China in 2014". The international journal of tuberculosis and lung disease. 2019;23(6):735-740
Ge E, Li D, Luo M, Tsui KWS, Waye MMY, Shen X, Wei X*. "Transmission of multidrug-resistant tuberculosis in Shanghai: roles of residential status". The international journal of tuberculosis and lung disease. 2018;22(12):1462-8.
Chen B, Gu H, Wang X, Wang F, Peng Y, Ge E, Wei X.* "Prevalence and determinants of latent tuberculosis infection among frontline tuberculosis healthcare workers in southeastern China: A multilevel analysis by individuals and health facilities". Int J Infect Dis. 2018;79:26-33.
Yin, J.#, Yuan, J., Hu, Y., & Wei, X*. (2016). "Association between Directly Observed Therapy and Treatment Outcomes in Multidrug-Resistant Tuberculosis: A Systematic Review and Meta-Analysis". PloS One. 11(3), e0150511. Doi:10.1371/journal.pone.0150511
Wei X, Yin J, Zhang ZT, Walley J, Harwell J, Li H, Li R, Wang L, Sun Q, and Zhang XL, (2015), "Treatment Interruptions and Provision of Directly Observed Treatment of Multidrug Resistant Tuberculosis Patients in China". Journal of International Union against TB and Lung Disease. 19(4):413–419
Wei X, Zou, G, Walley, J, Yin, J, Lonroth K, Uplekar M, Wang W, Sun Q. "China Tuberculosis Policy at Crucial Crossroads: Comparing the practice of different hospital and tuberculosis control collaboration models using survey data". PLoS One. 2014,9,3, e90596 DOI:10.1371/journal.pone.0090596
Ansa, G#. A., Walley, J. D., Siddiqi, K., & Wei, X. (2014). "Delivering TB/HIV services in Ghana: a comparative study of service delivery models". Trans R Soc Trop Med Hyg. Doi: 10.1093/trstmh/tru110
Research advancing primary care, health service delivery and tobacco cessation:
Su Min, Haldane V, Upshur R, Sullivan F, Legare F, Greiver M, Wei X*. "The impact of treatment adherence for patients with diabetes and hypertension on cardiovascular disease risk: a protocol for a retrospective cohort study, 2008-2018". JMIR Research Protocols. 2019 accepted
Wei, X., Walley, J.D., Zhang, Z., Zou, G., Gong, W., Deng, S., Harries, A.D., Hicks, J.P., Chong, M.K.C., Newell, J.N., Zhong, J., Yu, M. 2017. "Implementation of a comprehensive intervention for patients at high risk of cardiovascular disease in rural China: A pragmatic cluster randomized controlled trial". PLoS One. 12, e0183169.
Gong W, Wei X*, Liang Y, Zou G, Hu R, Deng S, Zhang Z, Pan J, Choi BC, Yu M. "Urban and Rural Differences of Acute Cardiovascular Disease Events: A Study from the Population-Based Real-Time Surveillance System in Zhejiang, China in 2012". (equal contribution with GW) PloS one 2016; 11(11): e0165647.
Wei X*, Li H, Yang N, Wong YSS, Chong MCK, Shi, L, Wong MCS, Xu J, Zhang D, Tang J, Li DKT, Meng Q, Griffiths S, (2015). "Changes of primary care quality in two megacities of China between 2011 and 2013: a multivariate difference-in-difference analysis", Bulletin of the World Health Organization 93:407-16
Zou G#, McPake B, Wei X*. (2014) "Chinese health foreign aid and policy: beyond medical aid". The Lancet. 2014, 383(9927):1461-1462.
Walley J, Graham K, Wei X, Kain K, Weston R (2012). "Getting research into practice: primary care management of noncommunicable disease in low-and middle-income counties". Bulletin of World Health Organization. 90:402 http://www.idpjournal.com/content/1/1/9
* denotes as corresponding author, # denotes students or trainee first authored papers.
Full publication list available at: https://www.researchgate.net/profile/Xiaolin_Wei2
News Articles
U of T Researchers Receive Grant to Increase Tuberculosis Treatment Adherence in Tibet
U of T study finds long-term success in reducing unnecessary antibiotics prescriptions in China