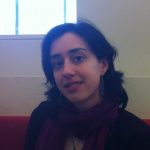 Featured Student
Rebecca Abavi
When and where did you complete your practicum?
I completed my practicum from May to August 2017 in the Violence and Health Research Program at Women's College Research Institute, Women's College Hospital, under the supervision of Drs. Janice Du Mont and Robin Mason.
What are your academic/research interests?
During my time at the DLSPH, I have been interested in understanding how health and psychosocial outcomes can be improved among those who have experienced sexual assault. I'm also interested in the role of sexual minority stigma in driving harmful involvement with substances, and increasing the risk for sexual assault. I am further interested in the social determinants of healthy child development.
What were your primary responsibilities at your agency?
My primary responsibilities were connected to research and knowledge translation. In the area of research, I worked within a team of researchers to conduct qualitative data analysis on barriers to accessing services for sexual assault, as disclosed on the social media website Reddit.com. I also led components of manuscript preparation for this study. In the area of knowledge translation, I designed a video that communicated research findings from a study that examined hospital-based sexual assault services for trans people.
In addition, I engaged in planning activities for an International Knowledge Translation Forum on violence against women who are older, which brought together research, policy and community leaders from the violence against women and elder abuse sectors. Finally, I drafted script materials for a curriculum on the emotional sequelae of sexual assault for health and allied professionals.
Not all of these projects, however, were completed during my practicum term. I was hired as a Research Assistant following my practicum in Fall 2017. During this time, activities that were initiated during the practicum came to completion, including the knowledge translation video, and the International KT forum.
What was most rewarding about your practicum experience?
I found it very meaningful to contribute to research, knowledge translation, and advocacy in this area.
What advice would you offer a prospective student who is considering an opportunity at your practicum site?
This practicum site offers a real opportunity to think through the role of research in addressing a community problem like sexual violence. If you are interested in the process of knowledge to action, this practicum is a good fit for you.
What was the most valuable lesson you learned during your practicum experience?
I learned a lot about the relationship between research and advocacy, and the intermediary role of knowledge translation, which transforms research knowledge into tangible information and tools that communities can access and apply.