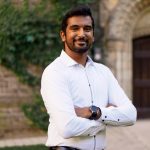 Featured Student
Arushan Arulnamby
What's your program and specialty/subject matter of focus?
I am a Masters of Public Health Student, majoring in Health Promotion. I am entering my second year of studies.
Why did you choose to join the PHSA? And why are you suited for your position?
I chose to be part of the PHSA to work with my fellow classmates and faculty to improve the student experience. Also, I believe my previous years in other executive roles has allowed me to develop the needed skills and knowledge to excel in this position.
What would you say to a prospective student who is just starting the school?
Always look for every opportunity to network with individuals at DLSPH, as you are surrounded by current and future health professionals and leaders!!