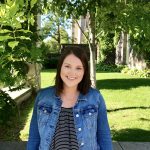 Featured Student
Anya Archer
What's your program and specialty/subject matter of focus?
I'm in the Health Promotion Stream and am really interested in focusing on eHealth and the digitization of the health care system.
Why are you studying public health/health policy?
I've always been intrigued by the macro-level functioning of programs and systems, specifically pinpointing why they do (or don't) work. Combine that with my love of problem solving and my interest in improving things that aren't running quite as smoothly as they could be, and public health seemed like a great fit for me.
Why did you choose to study here?
While researching schools of public health across the country, DLSPH stood out for its resources, organizations, and role at the epicentre of Public Health in this region. I haven't been disappointed, either; in my time here, I've been afforded many incredible opportunities and a chance to meet my role models in this field.
What are some current projects or research that you're involved in?
I just finished up my practicum working in the Department of Occupational Science and Occupational Therapy here at U of T. My role involved evaluating the rehabilitation system in Ukraine, which made for a really fascinating summer. I spent a lot of time interviewing a number of Ukrainian, Canadian and American specialists and assembling a report about my findings, which helped me develop my qualitative researcher skills that will definitely be transferable in the future!
Tell us about a challenge that you've had to overcome during your time at the School.
My biggest challenge has been forcing myself to think outside of the box, especially with intervention planning. I tend to stick with the safe and easy options, but last year it became clear to me that safe and easy doesn't always equal success! This is a little easier said than done, but I'm excited to keep pushing myself to find new methods!
What's the best part of being a DLSPH student?
Meeting so many people with such different areas of expertise, interests, and passions! I've met the coolest peers, professors, and other professionals who have opened my eyes up to ideas and topics that I might not otherwise have known about. My classmates and colleagues challenge me to keep an open mind and always encourage me to better myself. The DLSPH community has taught me so much about myself (cliché, but true) and who I strive to be as a Health Promoter in-the-making!
What's the one thing people can do to improve public health?
The one thing I've learned that we need to do better as human beings is to listen. In public health, we talk a lot about creating interventions and programs that on paper sound great but we neglect to consider important questions, like: Who will be using it? Why will they be using it? Is there a need for this program or should resources be focused somewhere else?
Often funding regulations dictate where those resources can go, but it's so important to listen to individuals and find out what they truly need rather than make assumptions to appease funders. As the Dalai Lama said, "When you talk, you are only repeating what you already know. If you listen, you may learn something new."