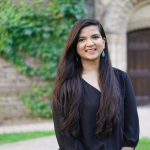 Featured Student
Nousin Hussain
What's your program and specialty/subject matter of focus?
I am a Masters of Public Health Student, majoring in Health Promotion. I am entering my second year of studies.
Why did you choose to join the PHSA? And why are you suited for your position?
I'm excited to be part of PHSA this year to promote a culture of equity and diversity. I look forward to collaboratively working with faculty and students to establish PHSA as a vital and supportive core of campus life.
Tell us about a challenge that you've had to overcome during your time at the School.
A challenge I've encountered has been balancing school, researching and outside, social activities. My advice would be to always look for ways to move coursework beyond the confines of a classroom. Strive to engage with it further and in a more meaningful way – whether that be into research, practice or into advocacy.