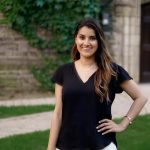 Featured Student
Marium Jamil
What's your program and specialty/subject matter of focus?           
I am a second-year Masters of Public Health Student, majoring in Health Promotion with a collaborative specialization in Global Health.
Why did you choose to join the PHSA? And why are you suited for your position?
I joined the PHSA because I wanted to ensure students graduate experience was a meaningful one. As Co-VP, I want to ensure students' voices are valued, whether that be at a personal level or institutional level via town halls. I also hope to implement various social and professional development opportunities as well as have resources available to support students mental health.
Tell us about a challenge that you've had to overcome during your time at the School!      Building a support system is really important to me, and I've been able to do that with the help of my classmates and professors. Getting further involved at UofT, whether it was through attending events, joining a club or a sports team, made my graduate school experience much more fulfilling.