Women in Global Health Leadership Fellowship
"Women hold around 70% of health worker jobs globally, over 80% of nursing and over 90% of midwifery roles, deliver the majority of unpaid care and domestic work in families and communities, and make the majority of health purchasing and usage decisions. Women lead the delivery of health to 5 billion people and contribute an estimated US$ 3 trillion annually to global health, half in the form of unpaid work. Yet women hold only 25% of leadership roles in health."
– The State of Women and Leadership in Global Health, Policy Report, Women in Global Health Series, March 2023.
Purpose
There is a pressing need to improve the pipeline of women leaders working in public and global health. We believe there is no shortage of women leaders. What is missing, are safe spaces where women can share their experiences with other like-minded peers while being exposed to gender transformative leadership, training tools and role models that can help them push forward more equitable health policies and practices.
This program was created in collaboration between the University of Toronto Dalla Lana School of Public Health (Canada), the Moi University School of Public Health (Kenya) and the University of Cape Town School of Public Health (South Africa), in partnership with the Mastercard Foundation.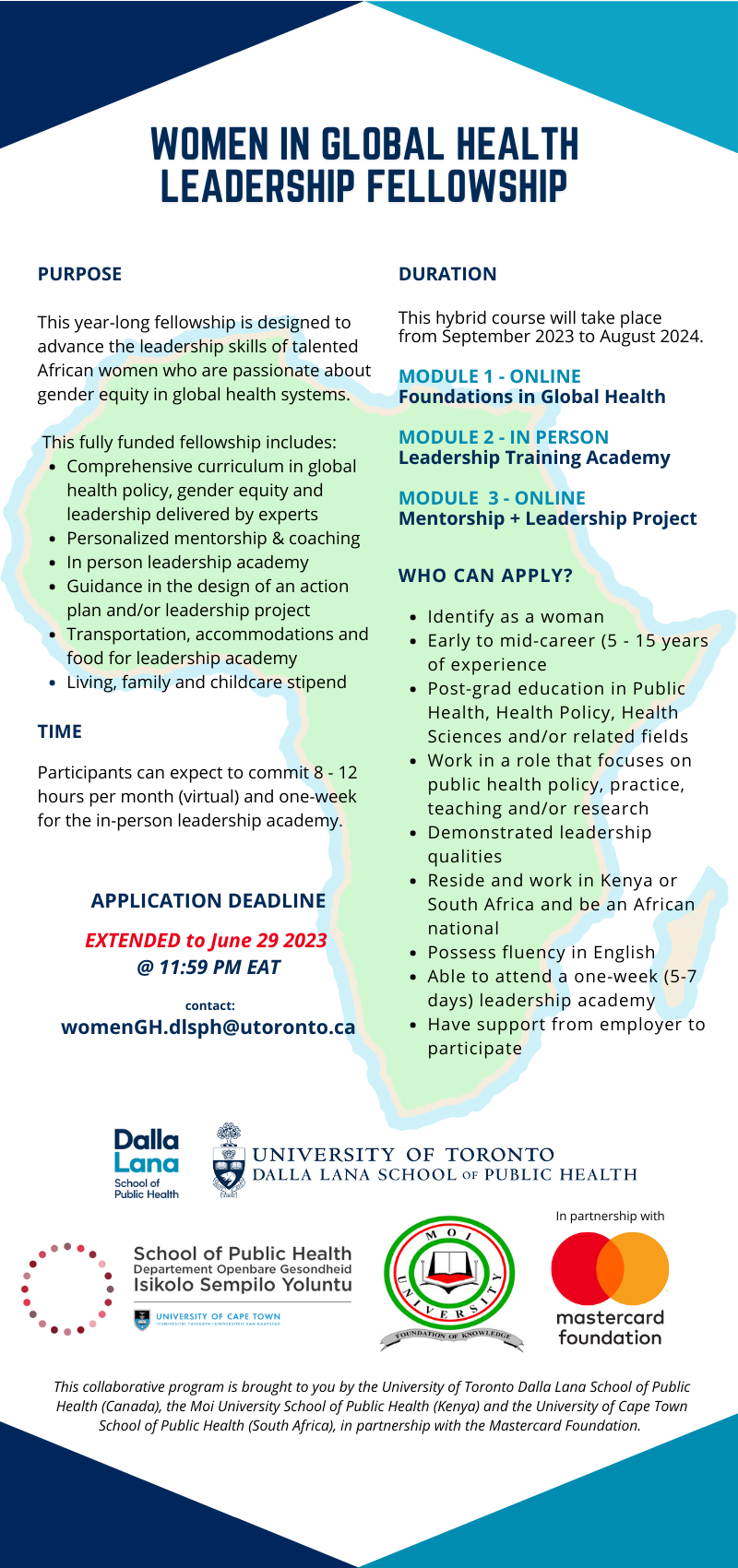 APPLICATION DEADLINE EXTENDED to June 29, 2023 @ 11:59 PM EAT
ABOUT THE FELLOWSHIP
This year-long fellowship is designed to advance the leadership skills of talented African women who are passionate about gender equity in global health systems.
Competencies
Throughout the program, participants can expect to gain knowledge and skills in the following competencies:
• Gender Equity and Intersectional Analysis: The ability to apply an intersectional and/or gender equity lens to health systems and/or health systems research.
• Global Health Policy and Advocacy: The ability to work around policy development, communication, cohesion, and advocacy to address the political environment and organizational culture of health institutions.
• Leadership: The ability to create a vision which empowers others, fosters collaboration, lead, guide decision-making and support diverse team members, to recognize and challenge gender inequity within their organization.
• Mentorship: The ability to develop and realize their leadership potential, their skillset, recognize opportunities for change, and optimize institutional resources to promote gender equity through their work.
Fellowship Phases
The fellowship lasts 12 months. Programming for the fellowship will consist of three phases.
Phase
Activities
Pre-Start

·         Information package (with travel information for in-person sessions)

·         Pre-survey to gage participant knowledge, skills, needs and expectations.

Phase 1

(Online)

·         Online learning sessions on global health and advocacy

·         Coursework, readings, reflexive exercises

·         Mentor matching

·         Journals and personal reflections

Phase 2

(In-Person)

 

·         Intensive one-week leadership academy

·         Activities focused on developing participants' leadership skill-set and other skills that are integral to high-impact global health leadership

·         Journals and personal reflections

Phase 3

(Online)

·         Mentorship sessions

·         Development and presentation of an individual action plan and/or leadership project

·         Exit interviews and recommendations for next fellowship co-hort

Post Fellowship

 

·         Invitation to participate in alumni network and/or to become an advisor, facilitator or mentor to future cohorts
Benefits of the Fellowship Journey
Aside from a curriculum in global health policy, gender equity and leadership, this hybrid fellowship journey includes:
• Training and workshops delivered by experts
• Personalized mentorship &/or coaching
• Guidance in the design of an action plan and/or leadership project
• Fully funded one week in-person leadership academy (including transportation, accommodation, and meals)*
• Financial stipend*
Leadership Academy*
The leadership academy is set to take place in March 2023 in Cape Town, South Africa. All participants in the program will be expected to attend. Air fare, transportation, accommodations and meals will be provided.
Financial Support*
This fellowship will provide participants with a living and family support stipend to cover lost wages, child or elder care, or other expenses to support their full participation in the program.
Who is this fellowship for
The Women in Global Health Leadership Fellowship is aimed at persons who:
• Identify as a woman
• Are early career-mid career (5 – 15 years of experience in local, regional or global health work)
• Have post-grad education in Public Health, Health Sciences, Health Policy and/or related fields (MA or PhD)
• Work in a role that focuses on public health policy, practice, teaching and/or research
• Demonstrate leadership qualities through schooling, work or community service
• Reside and work in Kenya or South Africa
• Are an African national
• Possess fluency in English
• Are able to attend a one-week (5-7 Days) leadership academy in March, 2023 in South Africa
• Have support of their employer to be part of the program
OUR TEAM
The Women in Global Health Leadership Fellowship was developed by a group of academics committed to improving the skill set, knowledge and experiences of talented early and mid-career women. The working group members are:
Moi University (Kenya) – School of Public Health
Faith Yego
Senior Lecturer at the Dept. of Health Policy Mgt and Human Nutrition
University of Toronto (Canada) – Dalla Lana School of Public Health
Associate Professor and Director for the Centre for Global Heath

Ophelia Michaelides

Manager, Centre for Global Health

Kamla Ross McGregor

Project Coordinator, Women in Global Health Leadership Fellowship, Center for Global Health
University of Cape Town (South Africa) – School of Public Health 
Tracey Naledi

Deputy Dean: Social Accountability and Health Systems, Faculty of Health Sciences

Maylene Shung King

Associate Professor, Health Policy and Systems Division, School of Public Health
Contact
For more information on this fellowship, contact womenGH.dlsph@utoronto.ca