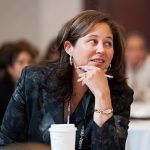 Faculty Member
Erica Di Ruggiero BSc., MHSc., PhD, RD
Research Interests
Primary Teaching Responsibilities
I am the Director of the Centre for Global Health and Director of the Collaborative Specialization in Global Health. I am an Associate Professor of Global Health in the Division of Social and Behavioural Health Sciences and hold non-budgetary cross-appointments as Associate Professor in the Institute of Health Policy Management and Evaluation, and the Department of Health & Society (UTSC). I am a Full Member of the School of Graduate Studies.
Select Honours & Awards
Current Research Projects
My program of research examines the impacts of population health interventions (policies, programs) on global social, gender and health inequities, using novel conceptual, methodological and comparative approaches. I am interested in how different discourses shape global policy agendas related to employment, other determinants and health and gender equity in the context of the Sustainable Development Goals and other policy agendas. My research also investigates the effectiveness of global and national governance mechanisms for equitable public health systems.
Representative Publications