Professor Donald Cole receives inaugural Vic Neufeld Mentorship Award in Global Health Research
November 17/2015
Congratulations to Professor Donald Cole for receiving the inaugural Vic Neufeld Mentorship Award in Global Health Research. The award was presented by the Canadian Coalition for Global Health Research on November 5, 2015 at the Canadian Conference for Global Health in Montreal.
"I celebrate how the Coalition collectively fosters mentorship of emerging global health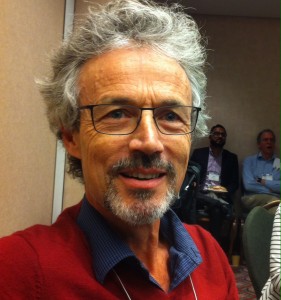 researchers and I am honoured to accept this award," said Cole, a Professor in the Divisions of Clinical Public Health and Epidemiology in the Dalla Lana School of Public Health.
Professor Cole is an internationally-recognized global health researcher with considerable experience designing healthy and sustainable agriculture interventions for human health in South America and Africa.  Students and colleagues admire Cole's commitment to global and local social justice in addition to his technical public health knowledge and skills.
Cole was nominated by former students and colleagues from Canada and internationally. His nomination was considered "impressive and extensive," according to Colleen Davison, who chaired the selection committee presenting the award to Cole. Davison is an Assistant Professor at Queens University's Department of Public Health Sciences.
"Donald is a kind and supportive mentor with a vested interest in student development as well as in his collaborations with colleagues in low and middle income countries," said Nandita Perumal, a PhD Epidemiology candidate under Professor Cole's supervision who helped nominate her mentor.
Vic Neufeld, the Coalition's founding national coordinator, is considered a leader in the development of mentorship opportunities and structures for global health researchers worldwide.  He was also on hand at the conference to confer the award to Cole.
"Donald played an essential role in helping me establish a career in global health research," said John Pringle, a former doctoral student of Professor Cole's who graduated in November 2014. "The support and encouragement I received continued from our first meeting, up until my defence, graduation and onwards. Donald remains my supervisor, my mentor and my friend."
Top photo courtesy of Professor Donald Cole taken in Nakuru, Kenya (2008).