Faculty and Staff Honoured at Awards and Retirement Lunch
June 24/2016
More than 75 Public Health Sciences faculty and staff attended the awards lunch on June 16, 2016 at U of T's Faculty Club to celebrate members of the community who have made an impact in the Dalla Lana School of Public Health and beyond.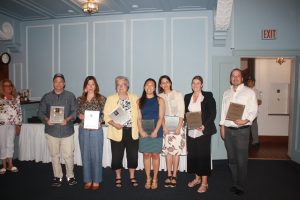 "This is an important moment to recognize and thank the faculty, supervisors, program leads, staff and administrators for their unwavering support of the School, and for their commitment to our thriving community of scholars, researchers, teachers and leaders," said Dean Howard Hu in his welcoming remarks.
The following faculty and staff were recognized for their achievements in teaching, research and service:
Faculty Teaching, Research and Service Awards:
Assistant Professor Dan Allman, 2015 early stage Robin Badgley Teaching Excellence Award
Assistant Professor Paul Bozek, 2015 open Robin Badgley Teaching Excellence Award
Lecturer Charlotte Lombardo, 2016 early stage Robin Badgley Teaching Excellence Award
Lecturer Charna Gord, 2016 open Robin Badgley Teaching Excellence Award
Associate Professor Carol Strike, 2015 Anthony Miller Award for Excellence in Research
Assistant Professor Laura Rosella, 2016 Anthony Miller Award for Excellence in Research
Associate Professor Andrea Sass Kortsak, 2015 John Hastings Award for Excellence in Service
Assistant Professor Dan Allman, 2016 John Hastings Award for Excellence in Service
Outstanding Administrative and Research Staff Awards:
Diane Tang, 2015 Outstanding Administrative Staff Award
Melodie Buhagiar, 2016 Outstanding Administrative Staff Award
Lee Vernich, 2015 Outstanding Research Staff Award
Shawn O'Connor, 2016 Outstanding Research Staff Award
Click here for more information about the Faculty and Staff Awards.
Following the award ceremony, four professors retiring this summer, including: Elizabeth Badley, Paul Corey, Suzanne Jackson and Ted Myers, were recognized by their peers and invited to reflect on their career at the University.
Professor Badley was unable to attend, but was recognized for her contributions as an advocate for arthritis and musculoskeletal disease tracking and surveillance.
"Colleagues describe her as someone who generously gives her time to help to think about research problems and that she is far more likely to be found advocating and promoting the work of her junior colleagues than her own research endeavours," said Professor Hu.
Professor Wendy Lou presented for Paul Corey, who said that flexibility was one of his most important learnings and that he's especially proud of the Biostatistics' practicum program and the poster presentations for which "students are winning awards annually."
Following Corey, Ted Myers recognized Suzanne Jackson's passion for participatory and community-based approaches to research and her role in the establishment of the School's global health emphasis in 2005.
"It's been a privilege to teach the students and courses that I have at U of T. This energy and contact with youth has been truly inspiring," said Jackson, noting that she felt encouraged by the upcoming global health promotion leaders, some of which are DLSPH alumni.
Finally, Professor Liviana Calzavara shared her experience working with "the quilt that is" Ted Myers for more than 30 years.
"In the early 80s, we didn't know much about HIV or AIDS, but we did know that social factors were crucial to understanding the disease," said Calzavara. She also noted that Myers was an early champion of interdisciplinary research approaches, which minimized the spread of the disease by informing care, policies and prevention.
"We are not people with different interests. We are all building the school together," said Myers.