U of T selected as scientific partner of Canada's largest health research platform to accelerate cancer and chronic disease research
April 11/2018
The University of Toronto has been selected to serve as the national scientific partner of the Canadian Partnership for Tomorrow Project (CPTP), Canada's largest population research platform that is unlocking the answers to why some people develop cancer and chronic diseases while others do not.
Through a national competition by the Canadian Partnership Against Cancer, Professors Philip Awadalla, in the Faculty of Medicine, and John McLaughlin, in the Dalla Lana School of Public Health, were chosen to lead CPTP into its next phase as Canada's premier health research initiative. This announcement coincides with a recent publication led by Professor Awadalla that received widespread media attention, including in the Globe and Mail, in which analyses of CPTP data from Quebec revealed how air pollution and other environmental factors influence gene expression and disease.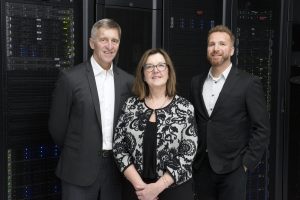 Photo: Partners meet at the Ontario Institute of Cancer Research (OICR) Data Centre as the Canadian Partnership for Tomorrow Project (CPTP) announces that the University of Toronto's Dalla Lana School of Public Health will be CPTP's new national scientific partner. The national data for CPTP's 300,000+ participants is housed at the OICR Data Centre. Pictured (left to right): Dr. John Mc Laughlin, Executive Director of CPTP; Cindy Morton, Chief Executive Officer of the Canadian Partnership Against Cancer.; and Dr. Philip Awadalla, National Scientific Director of CPTP.
"The CPTP enables precision health research because it's a living population laboratory," said Philip Awadalla, who is a Professor of Population and Medical Genetics in the Faculty of Medicine's Department of Molecular Genetics, and will now serve as National Scientific Director for CPTP.
The Canadian Partnership for Tomorrow Project has more than 300,000 participants, aged 30-74, who have voluntarily provided health and biological information, which can be used by researchers to conduct long-term population health studies. As participants age, some will develop a range of conditions, which allows researchers to search for factors linked to disease onset and progression. These types of studies can detect health links with genetic, environment, behaviour and societal factors.
"We are honoured and grateful for the opportunity to lead this major program at U of T in partnership with many contributors across Canada," said John McLaughlin, who is a Professor of Epidemiology at the Dalla Lana School of Public Health, and will now serve as CPTP's Executive Director.
"While benefiting from the University's massive research capacity and range of expertise, we will work collaboratively with our many partners to heighten scientific outputs and impacts, enrich the platform with new data linkages, and work with researchers across campus and across Canada who share our vision of how health and health systems can be improved nationally," said McLaughlin, who is also Chief Science Officer at Public Health Ontario.
"By deeply characterizing and following the health of Canadians, we will be able to develop and optimize tools that slow or prevent disease evolution in an individual. The future of this program is reliant on research and discovery by the research community and the continued participation of Canadians to unlock the genetic and environmental factors associated with the development of disease," said Awadalla who is also Director of a Genome Canada genomics platform, at the Ontario Institute for Cancer Research, a strategic partner for the project.
U of T is the natural home for the second phase of the CPTP because of its strong track record of world class population health, biomedical, and health services research and education, combined with its impressive faculty with extensive experience leading large-scale studies and research networks.
"We aim to attract more national and international researchers to the platform to further their own research and leverage the data generated to transform population health in Canada and globally, said France Gagnon, Associate Dean of Research at the Dalla Lana School of Public Health.
Click here to read the Canadian Partnership Against Cancer's news release for more information about CPTP.