Black History Month events celebrate leadership and excellence
January 26/2023
DLSPH will host two events this February in honour of Black History Month. On February 9, a panel of Black-identifying professionals will discuss how their identities inform their work. And in mid-February, DLSPH will celebrate public health professionals who have made a great impact within the city. 
Three Toronto-based leaders will be recognized this coming month for their outstanding work in public health and health systems. On February 16, the Dalla Lana School of Public Health will celebrate Fatimah Jackson-Best, Cynthia Damba and Jacqueline Silvera for their contributions to the field.  
Those who work in public health and health systems often describe their experiences as invisible. The public rarely sees the researchers who discover solutions to pressing community and global concerns, or the names of those who help develop lifesaving policies. But these changemakers deserve credit for protecting and improving the well-being of society.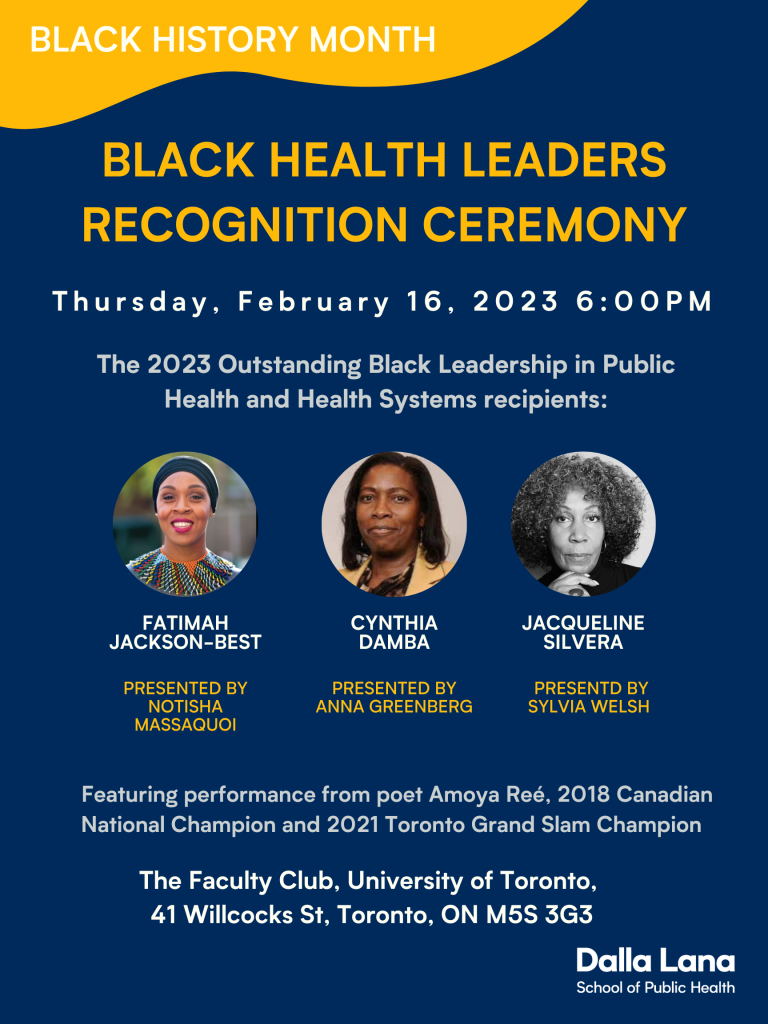 This Black History Month (BHM), DLSPH is thrilled to celebrate three Black leaders who have made great impact in the fields of public health and health systems within Toronto. Following a performance from poet Amoya Reé, 2018 Canadian National Champion and 2021 Toronto Grand Slam Champion, the recipients will be honoured at the Black Health Leaders Recognition Ceremony. With this award, the School can amplify their incredible work while also inspiring future Black leaders to join them in this vital profession. 
Ryan Hinds, Director of Equity, Diversity and Inclusion at DLSPH, says that although February is a great prompt for celebrating these accomplished individuals, Black leadership in public health should be recognized all year round. "While I don't believe we need wait until February to recognize or mark Black experiences, I think BHM can serve as a reminder for us to reflect and evaluate whether public health and health systems have truly improved the lives and experiences of Black communities," he says. "Have changes been felt, or simply discussed?"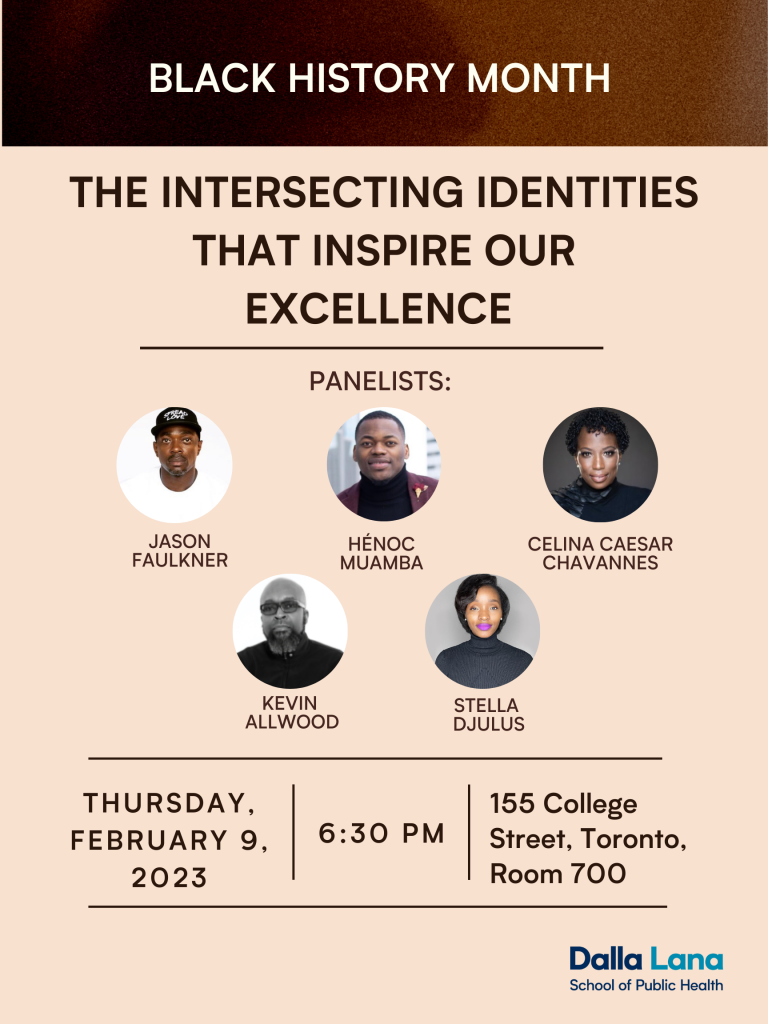 In addition to the awards ceremony, DLSPH is hosting a panel discussion on February 9 called The Intersecting Identities that Inspire Our Excellence. During this presentation, five Black-identifying professionals will share how their array of intersecting identities inform their work. Featuring professional athlete and 2022 Grey Cup MVP Hénoc Muamba, author Celina Caesar-Chavannes, business owner and clothing designer Jason Faulkner, founder and visual artist Stella Djulus, and business owner Kevin Allwood, this panel of inspiring individuals will show the groundbreaking ways in which identity can impact how passions are lived out. 
"All health system leaders have a responsibility to help advance health for Black communities," says Dean Adalsteinn Brown. "It is critical that the public health and healthcare systems acknowledge their responsibility and use this dedicated time to evaluate progress on commitments made to Black communities. One of the small ways in which the School has committed to being better is by highlighting Black leaders in health and the excellent work that too often has gone unrecognized."
The entire DLSPH community is encouraged to attend these Black History Month events. But Hinds says that's just one step everyone can take in helping create a more equitable society. "The work of equity is not about, 'did I go to that one training?' It's about, 'has that training changed something that I'm doing every day?'" he explains. "Attending a session is to help inform what you do differently."