Training in Global Health Diplomacy
Executive Course in Global Health Diplomacy 2023 BROCHURE
The Centre for Global Health, Dalla Lana School of Public Health's Executive Course on Global Health Diplomacy is back for a third year. In collaboration with the Office of International Affairs for the Health Portfolio and Government of Canada, this executive training course is the first-of-its-kind in Canada. Designed for professionals working in health or health-related sectors, this course will explore the theory and practice of global health diplomacy as it relates to COVID-19 and other current health issues, while offering a uniquely Canadian approach.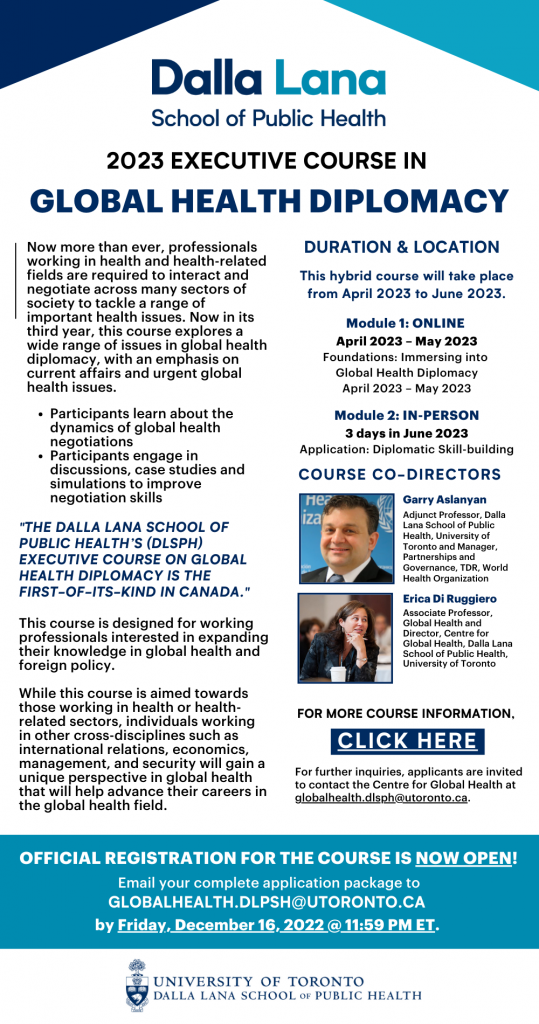 REGISTRATION FOR THE 2023 EXECUTIVE COURSE IN GLOBAL HEALTH DIPLOMACY IS  
NOW OPEN 
Please download Application Instructions 
Application deadline is Friday, December 16, 2022 @ 11:59PM ET 
About The Course
1. What skills will I learn?
By the end of the course, learners will be able to:

Articulate and analyze the theories and practices of global health diplomacy as it relates to COVID-19 and other current health issues
Apply diplomacy, negotiation, communication, and analytical skills to global health negotiations
2. Is there a course syllabus program I can review? 
An outline of the

2023

Executive Course on Global Health Diplomacy

program is

available here:

2023 PROGRAM

This year's course will be offered

in hybrid format:

 

 

Module 1:

ONLINE

|

Foundations:

Immersing into Global Health Diplomacy

| April 2023 – May 2023

 

Module 2:

IN-PERSON

|

Application:

Diplomatic Ski

ll-building

|

3 days at the beginning of June 2023*

 
Please note

,

e

xact dates to be announced January 2023.

 
3. Am I required to attend the in-person module, or can I participate virtually? 
Travel to Toronto

in June

for the in-person module of the course is required for all accepted participants. 

 
4. What if I require a visa to be allowed entry into Canada for the purpose of this course? 
5. Will certificates be provided?
A Certificate of Completion in Executive Development will be provided to participants.
6. Who can I contact if I have more questions:   
Prospective Learners
1. Who should take the course?
The course is designed for professionals working in health or health-related sectors, such as:

Diplomats, policy advisors, managers and leaders working in government
Professionals working in health, international relations, economics, management, international law, security, or whose portfolios intersect with global health
Professionals working for NGOs, philanthropic organizations, the private sector, academia & multilateral organizations
Professionals in cross-disciplines interested in learning more about linkages to global health
2. Do I need a background in global health?
A background in health or global health is not a prerequisite to participate in the course. Although the course will be touching upon issues related to global health, the primary intent of the course is to better understand the place of health in negotiations and to build the skills required to engage in cross-sectoral dialogue on an international level.
3. Are there language requirements?
While course content and discussions will be delivered in English, additional support/assistance can be provided by course Directors and Coordinators for attendees wishing to receive clarification in French, Spanish, German, Portuguese and Russian.
Registration
1. Important Dates and deadlines
| | |
| --- | --- |
| REGISTRATION OPEN | Monday, October 17, 2022 |
| APPLICATION DEADLINE | Friday, December 16, 2022 |
| SUCCESSFUL APPLICANTS NOTIFIED BEFORE | Monday, January 30, 2023 |
2. How do I apply? 
To apply

, please

download Application Instructions HERE

.

Application packages should include:

 
Application information (listed in Application Instructions Form)

 

Expression of Interest Statement (300-500 words)

 

Curriculum Vitae (CV)

 
3. What is the registration fee for the course?
Registration for the course is

$1,300

CAD

, including

HST.

Tuition fees include online and in-person

course materials, teaching expenses, and hospitality costs. 

 
4. Does the registration fee cover my travel expenses for the in-person module? 
No – t

uition does NOT cover participant costs associated with travel to the course in-person module (e.g., travel to

/from

Toronto, accommodations in Toronto, travel/health/personal insurances, etc.)

.

In-person expenses are self-funded by participants. 

 
5. Is there Financial Assistance provided?
A small number of subsidies are available to participants with demonstrated financial need (e.g., students, participants residing in a low- and middle-income country).

Applicants who wish to be considered for financial assistance should indicate this in their

application package

and are encouraged to contact

globalhealth.dlsph@utoronto.ca

directly for further information.  

 

Participants awarded financial assistance will be covered for

the following:

 

Course registration

T

ravel expenses associated with the in-person module in Toronto (e.g., travel to/from Toronto, accommodations

in Toronto,

ground transportation, meals).
Global Health Diplomacy News & Updates
Podcast Series: Part 1
Why You Should Care About Global Health Diplomacy | ft. Dr. Garry Aslanyan, Manager of Partnerships and Governance at the WHO TDR
Podcast Series: Part 2
Working Within The Complexities Of Global Health | ft. Dr. Garry Aslanyan, Manager of Partnerships and Governance at the WHO TDR
Bringing the skills of a diplomat to global health challenges
Framing diplomacy through a health lens
Teaching the Art of Diplomacy in Public Health
Canada needs to beef up its global health diplomacy
The politics of public health: U of T offers novel course in diplomacy for public health professionals
U of T Offers Groundbreaking Training in Diplomacy for Public Health Professionals
Global Health Diplomacy Resources
Oxford annotated bibliography guide
Global Health Diplomacy – Public Health – Oxford Bibliographies
Healthy Cities in the SDG Era podcast – episode with Ilona Kickbusch and Srikanth Kondreddy
Global Health Diplomacy (buzzsprout.com)
Contact Us
For additional information please contact the Centre for Global Health at globalhealth.dlsph@utoronto.ca