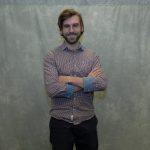 Featured Student
Sam Filipenko
When and where did you complete your practicum?
I completed my practicum over the summer of 2017 at Egale Canada Human Rights Trust – a national non-profit organization dedicated to advancing the human rights of the LGBTQI2S community.
What are your academic/research interests?
My academic interests relate to improving the health and wellbeing of marginalized communities through community development, capacity building, and system change. I take an empathic approach to understanding the lived experiences of individuals, and centre these knowledges within program plans, educational tools, and advocacy efforts. I contextualize community experiences within historical and contemporary social, political, and economic landscapes to unpack the upstream causes of poor health outcomes.
What were your primary responsibilities at your agency?
My primary responsibilities at the agency were program support, community engagement, knowledge translation, and advocacy efforts.
What types of projects did you participate in and what deliverables were you expected to produce?
I actively participated in the community engagement of LGBTQI2S older adults through sitting on Egale's National Senior's Advisory Council, joining community groups, attending summits, and government consultations. I was involved in the knowledge translation of a National survey that explored the needs and issues of LGBTQI2S older adults across Canada. I also developed an interactive resource guide for LGBTQI2S older adults in Canada.
What was most rewarding about your practicum experience?
Learning about the passion and strengths of LGBTQI2S older adults was truly inspiring.
What advice would you offer a prospective student who is considering an opportunity at your practicum site?
Check your ageism, and be ready to engage in a intersectional approach to addressing LGBTQI2S issues. Be ready to unpack societal assumptions about the diversity of the LGBTQI2S community.
What was the most valuable lesson you learned during your practicum experience?
The most valuable lesson I learned during this practicum experience was how to be an effective community advocate and ally.