This page was updated on March 15, 2021 – 10:22 a.m. EST
Dear DLSPH community,
We have made the decision to continue remote learning at DLSPH for the 2021 Summer Session due to ongoing high rates of COVID-19 transmission in Toronto. Remaining remote also allows us to continue to be resilient to the dynamic changes of the pandemic.
We anticipate remote delivery this summer will be minimally disruptive to the DLSPH community given the emphasis on practicum placements and relatively few courses that are offered during the summer term.
Your division heads and directors will share more information as plans for the summer term firm up. For now, I want to let you know of my decision so that you can plan accordingly.
As a reminder,  you can find mental health and wellness supports through the 8th Floor Lounge or also visiting U of T's central mental health hub.
I am so thankful for the patience, grace and flexibility our students, faculty and staff have shown in the face of profound changes and challenges brought by the pandemic. Our community is strong, and resilient. Better days are coming.
Sincerely,
Adalsteinn (Steini) Brown
Dean
Frequently Asked Questions
As we maintain continuity during these challenging times, we also aim to address all of your questions.
Click here to access our FAQ page.
You can also find live updates from JCB here.
Staying Well
DLSPH 8th Floor Lounge" on Quercus!
The 8th Floor Lounge provides a space for students, faculty, and staff to come together, connect, be social, support each other, and be in community. The 8th Floor Lounge can be entered anytime. We're seeding our the 8th Floor with Inspiration. There's something for everyone – whether you are inspired by art, nature, animals, music, dance, poetry, speeches, short films, memes, humour, or watching others poke goo. If what inspires you is missing – add it! This space is intended to be co-created so how our online community grows is only limited by our imagination! The 8th Floor Lounge currently includes the following ways to connect:
Discussion boards – add a topic that excites you!
Themed Virtual Meeting Spaces, such as The Lounge, The Kitchen, The Tree House, The Gym, The Spa, The Music Room and more!
An Inspiration Corner
Mental Health and Wellness Resources
Life is complicated and doesn't always go as planned. If you are in distress, we can connect you to the help you need. Here are some resources for learners and students.
For Students
For 24/7/365 support: U of T My SSP (multiple languages): 1844-451-9700; or download the app: uoft.me/myssp
Good 2 Talk: 1866-925-5454
Tips from Toronto Public Health
Take deep breaths. Simple breathing exercises can help ease stress. Try breathing in deeply, counting to three, hold for a count of three, and then slowly breathe out, counting to three.
Have a routine. Structure your day and maintain positive habits.
Let in the sun. Open windows. Sunlight can improve your mood.
Exercise, dance and have fun. Blow off steam and boost endorphins.
Call or virtually connect with loved ones. Lean on each other for support.
Stay informed. Check credible sources of information for updates but take breaks when needed. Taking in the news all day can be draining. Unplug for a bit and recharge – listen to music, meditate, read or listen to a podcast instead.
Look for the positives. Share inspirational stories of people helping one another.
Engage your brain. Do a word search, Sudoku, jigsaw or crossword puzzle.
Help others. Volunteer to pick up groceries or walk the dog for a neighbour who is self-isolating. Helping someone else can make you feel good.
Seek help. If you are feeling overwhelmed, reach out. Community help is available.
UofT GUIDES FOR STUDENTS
More Tips
Webinars
Don't miss our weekly webinars with our DLSPH experts. Did you miss a webinar? Watch them all on our YouTube page.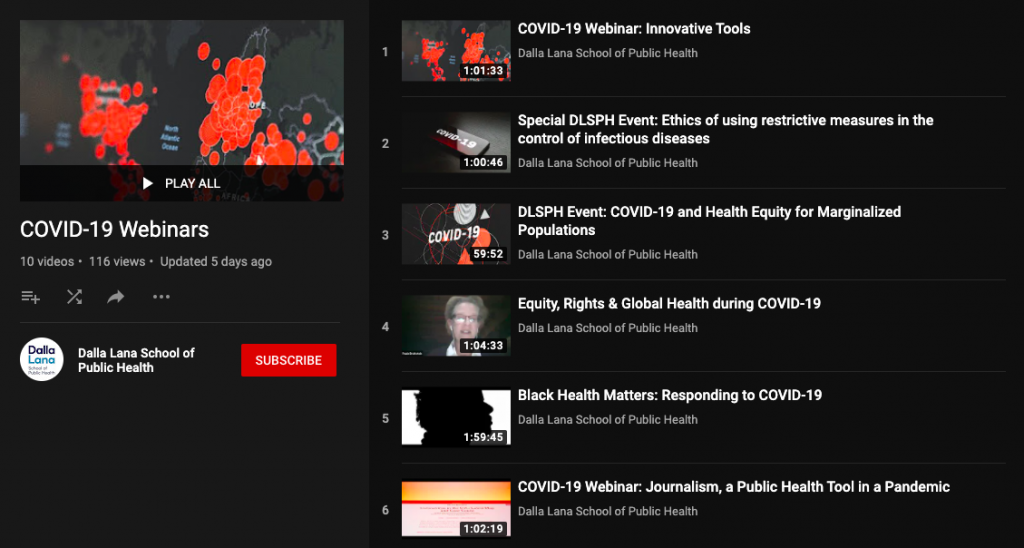 DLSPH's Notice and Information on Business and Academic Continuity
Past memos on business and academic continuity at DLSPH are listed below.
University of Toronto and COVID-19
The University of Toronto has developed a one-stop webpage for all university matters pertaining to COVID-19.
COVID-19 Funding Opportunities
The public health community has a wide range of knowledge, experience and skill sets to contribute to the fight against COVID-19. Listed below are immediate COVID-19 funding opportunities.
Toronto Public Health's Resources on COVID-19
Toronto Public Health is monitoring all positive cases of COVID-19.
Public Health Ontario's Resources on COVID-19
Learn about how the Ministry of Health is preparing for the 2019 novel coronavirus in Ontario. Find out how to protect yourself, what to do if you're sick after you travel and how to recognize possible symptoms.
Government of Canada's Resources on COVID-19
The Government of Canada has a number of valuable resources for the public as well as health professionals as we weather through this pandemic.