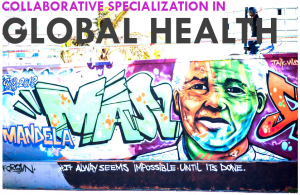 In September 2017, the Collaborative Doctoral Program in Global Health will integrate the Masters Global Public Health Emphasis program to become the Collaborative Specialization in Global Health (CSGH). The new program will draw on the significant academic resources available at the School, and across the University of Toronto, to offer all students, both Master's and Doctoral, a rich experiential environment and a vibrant global health learning community.
About the Specialization
The Collaborative Specialization in Global Health (CSGH) is designed to deepen the knowledge base of graduate students about multidisciplinary approaches to global health issues and challenges; to provide career training related to global health research and practice; and to help students develop skills that advance their research and practical skills. The CSGH views 'global health' in an integrative manner, focusing on the relationship among local, regional, national, and international forces that influence health, as well as on the development, implementation and evaluation of interventions and policies.
The CSGH integrates methods and insights from Departments and Faculties across U of T. Students are encouraged to think critically about global health paradigms and to integrate academic research skills in an applied setting.  Graduates of the program will be exposed to global health approaches from a variety of disciplines including public health, engineering, anthropology, rehabilitation sciences, business, nursing, and law.
Objectives
To enable students to develop an understanding of global health as it relates to the interaction of global, national, regional, and local forces, processes, and conditions;
To ground training in disciplinary perspectives and engage in multidisciplinary research enterprises;
To offer mentorship opportunities by committed and experienced faculty with a diversity of theoretical, operational and methodological perspectives on global health; and,
To grapple with complex health-related policymaking by the range of international, national, and local actors in a wide range of sectors that shape policies and carry out activities that affect health.