Nurturing Implementation Science: DLSPH Trainees Recognized for Projects on COVID-​19 Vaccine Access, LTC Workplace Safety and More
April 13/2022
By Elaine Smith
Five teams of early-career researchers walked away with prize money in their pockets at the inaugural DLSPH Research Day for Implementation Science on April 6.
The 20 researchers – four per team – are the first group of trainees in DLSPH's  Global Public Health and Health Systems Improvement through Implementation Science cluster, created in 2021 to improve the effectiveness of health services by better understanding and promoting the adoption of research findings into regular health-care practice. Each team has spent eight months working under the guidance of public health mentors to examine an issue related to the broad research question of why some health-care systems are more resilient than others.
"Nurturing early career researchers through interdisciplinary skills-building opportunities is critical to their development as independent scholars," says Prof. Wendy Lou, the trainee cluster co-lead.
Research Day marked the culmination of the trainees' work. Each team presented its research issue, methods, findings and implementation plans to expert judges Profs. Audrey Laporte and France Gagnon, who were recruited by the cluster leads, DLSPH Profs. Erica Di Ruggiero and Xiaolin Wei. The judges questioned each team and awarded first-, second- and third-place prizes of $1,000, $750 and $500, respectively.
The COVID Vaccine Consensus (CVC) Working Group, comprising Archchun Ariyarajah, Isha Berry, Victoria Haldane and Miranda Loutet, PhD students in Public Health Sciences (PHS) and IHPME, claimed the top prize for their study to identify implementation barriers and enablers in the delivery of COVID-19 vaccines in low- and middle-income countries (LMICs).
Their research, under the mentorship of Professor Ross Upshur with input from the Faculty of Medicine's Dr. Fabio Salamanca-Buentello, sought consensus about the priority challenges of implementing COVID-19 vaccine delivery programs in LMICs and potential solutions to these challenges. They explored the major challenges and solutions to COVID-19 vaccine delivery using a sequential series of questionnaires administered to anonymous immunization experts around the globe, a process called the Delphi method. Its goal is to build reliable consensus on a specific issue.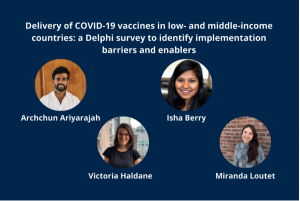 "COVID-19 vaccines and global vaccine equity are important parts of the pandemic recovery process," CVC members said in a joint statement. "We hope that by identifying key challenges in vaccine delivery and possible solutions from those with in-country expertise this work can provide a roadmap for global implementation partners to act on."
In an iterative three-step process, survey participants identified the major challenges to vaccine implementation; ranked the responses and then rated the rankings. More than 90 per cent of respondents agreed that the major barriers to widespread vaccine implementation were insufficient health system capacity for both routine and COVID-19 care and insufficient operational funding.
Respondents suggested a number of solutions, with flexible national plans for vaccine delivery receiving unanimous approval. More than 90 per cent of respondents also said ensuring success required vaccine training for health-care workers; strengthened cold chain capacity; communication plans and community engagement to address vaccine hesitancy; and implementing a centralized surveillance system. In addition, equity was a theme that ran through all of the barriers and solutions.
The team is disseminating their findings through upcoming publications, conference and seminar presentations and workshops, and have already presented their findings to the Department of Immunization, Vaccines and Biologicals at the World Health Organization as a means of creating impact.
"What this team's research shows is that local context matters in vaccine delivery but that common ground can be found in solutions," says Gagnon, DLSPH's associate dean, research.  "This suggests that co-creation of vaccine delivery programs — engaging local and global partners — focusing on solutions rather than only challenges are likely to be more successful."
Two teams made presentations that tied for second place:
Alyssa Kelly, Aunima Bhuiya, Bojana Petrovic and Farah Tahsin, mentored by Adj. Prof. Ilene Hymanand Di Ruggiero, used mixed methods to examine the implementation and sustainability of a charitable organization that supports people fleeing violence in four Canadian provinces; and
Dorothy Apedaile, Olivia Caruso, Nada Dali and Steven Winkelman, mentored by Profs. Susan Bondyand Abi Sriharan, conducted a policy implementation analysis of COVID-19 workplace health and safety interventions in Ontario Long-Term Care Homes.
The other two teams earned third-place honors:
Vajini Atukorale, Kainat Bashir, Christoffer Dharma, Dane Mauer-Vakil, Mariame Ouedraogo and Mercedes Sobers, mentored by Profs. Sara Allin, Anushka Ataullahjan and Shaza Fadel, conducted an equity-focused evaluation of the COVID-19 vaccine rollout plans proposed by six Canadian provinces; and
Tolu Ojo and Diya Uberoi, mentored by Lisa Forman and Lincoln Lau, used the consolidated framework for implementation research to explicate civil society efforts in driving health policy reform to ensure equitable access to life saving medicines.
"Implementation research applies theories/frameworks and mixed methods to generate evidence-informed and equitable program and policy solutions to strengthen health and health systems globally," say Di Ruggiero and Wei. "As the Research Day demonstrated, there are many complex implementation problems from COVID-19 to gender-based violence to access to life saving medicines that require urgent attention."
Learn more about the trainee cluster.